These festive pretzel treats are a great party snack or a fun Christmas gift for for your neighbors.
Christmas Present Pretzels are a fun and easy snack to make for any holiday party. or this holiday season. Chocolate covered pretzels are one of my favorite treats and they're great for holiday parties. The perfect mix of sweet and salty wrapped in a festive holiday package.
These Christmas present pretzel treats are very easy to make and will be a huge hit with everyone.
How to Make Christmas Present Pretzels
First, you need to gather your pretzel treat supplies. I bought my square "waffle" butter snap pretzels at Target. The butter is a strong flavor, so you might want the plain snap pretzels if you're not a butter fan. Then grab some semi-sweet chocolate chips and Christmas m&m's.
I wasn't sure how easy it would be to cut the m&m's, but they split quite easily. Using a sharp paring knife worked great. To melt the chocolate chips, I used a melt chocolate function on my microwave, but you could probably use a lower power if you don't have that function. Or a double boiler. If you're melting in the microwave, stir often. It won't look like it's melting, but once you stir it you'll see it's ready.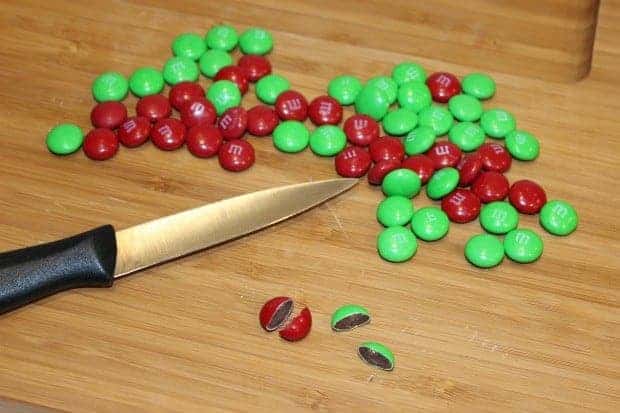 Next you're ready to start assembling the Christmas present pretzel treats. Dunk the top pretzel edge in the chocolate. I did an angled dip so the chocolate got on one side edge and the top but not the back side. Then remove the pretzel and lay it on a flat surface. Place two m&m halves along the top edge into the chocolate, then place two more half m&m's angled on the front. Let them sit for a while for the chocolate to firm up. You can put them into the fridge to hurry it along.
Now you've got great little Christmas Present Pretzel Treats to give friends, pack for road trips, or shove into your own mouth.
A big thanks
to Kimberly from Stuffed Suitcase, for this fun Christmas treat idea!
To see more Christmas family ideas, click on this link or on the image below!