I'm so excited to have my friend McKenzie share a project from her home. I've had the chance to get to know this cute gal recently doing some Google Hangout chats (think skyping in groups). She is so sweet and funny, and I'm excited to (re) meet her this weekend at a conference! Go check out her fun site after reading her post!
Hey! I am McKenzie from Girl Loves Glam and I am so excited to be here with you today! Kristen is one of my favorite bloggers. She has so much knowledge and is a rock star at everything she does! I love to blog about DIY decor and crafts, a little of what I wore, and beauty tips. I enjoy sharing my knowledge as I learn new things along the way.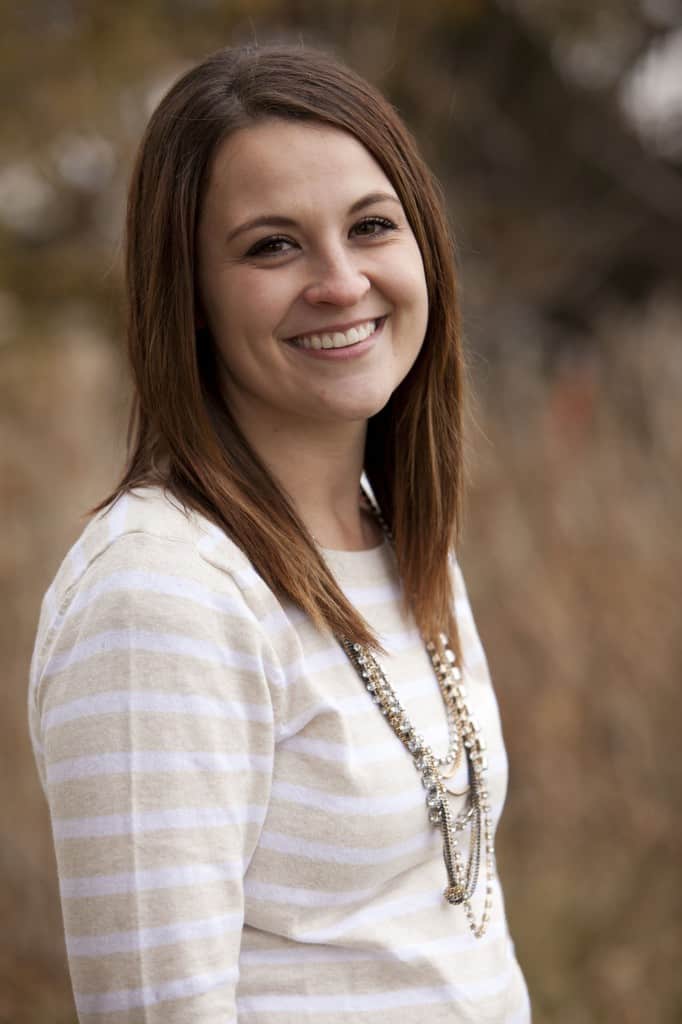 Today, I will be showing you how I made this HUGE canvas for cheap! Nothing warms my heart quite as much as when I can make a huge statement piece for a room using very little money.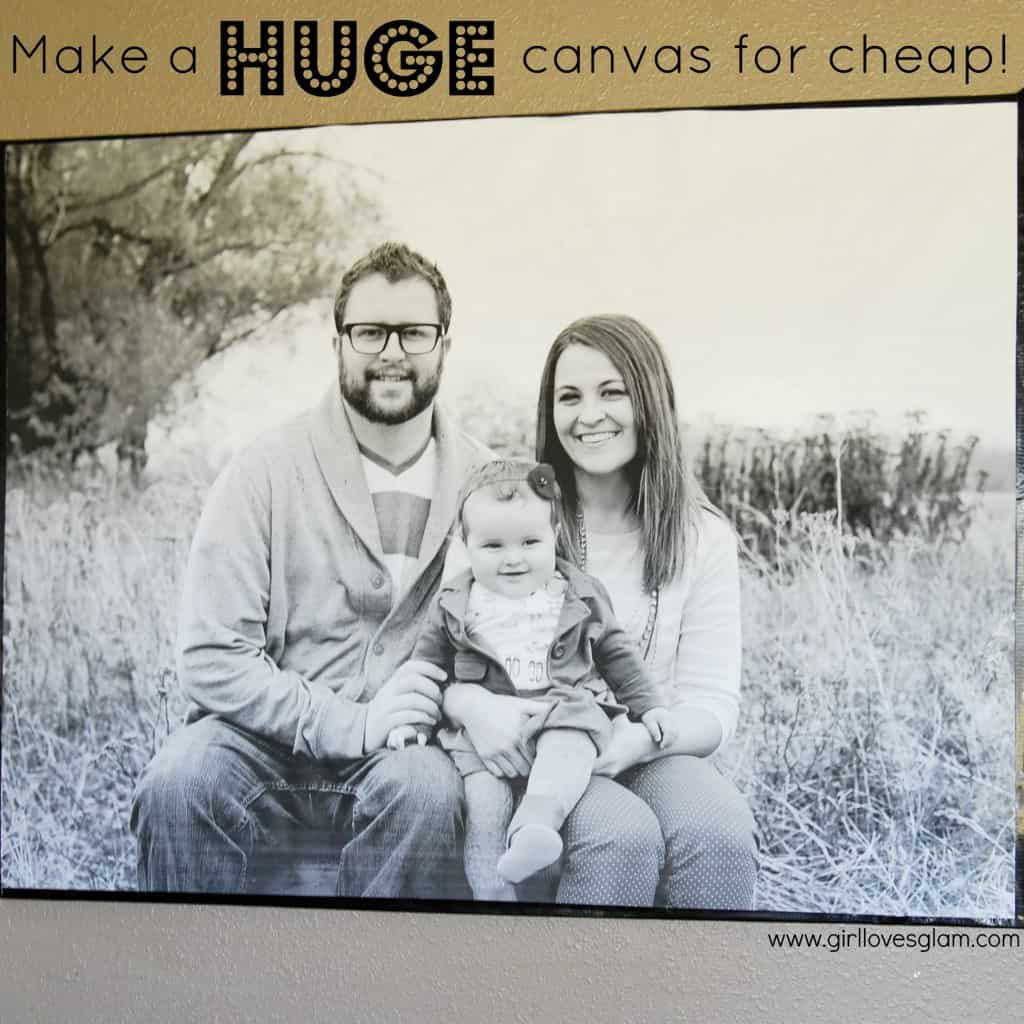 I love what a statement this canvas makes on our wall. It is 3'x4′ big so you can't miss it! I am creating a gallery wall around it that will be the perfect accent for this enormous picture. My little girl loves to look up and reach for the picture too. I think that by having this photo in our main living room area is a great way to remind us of what is really important in our lives. Our FAMILY! To make your own, you need…
*4 wood slats nailed together forming a frame. OR one ugly canvas (I will explain that one later!)
*Engineer's print of your photo (mine is 3ft by 4 ft)
*Black duct tape
So, I told you I would explain the big, ugly canvas part. Here it goes…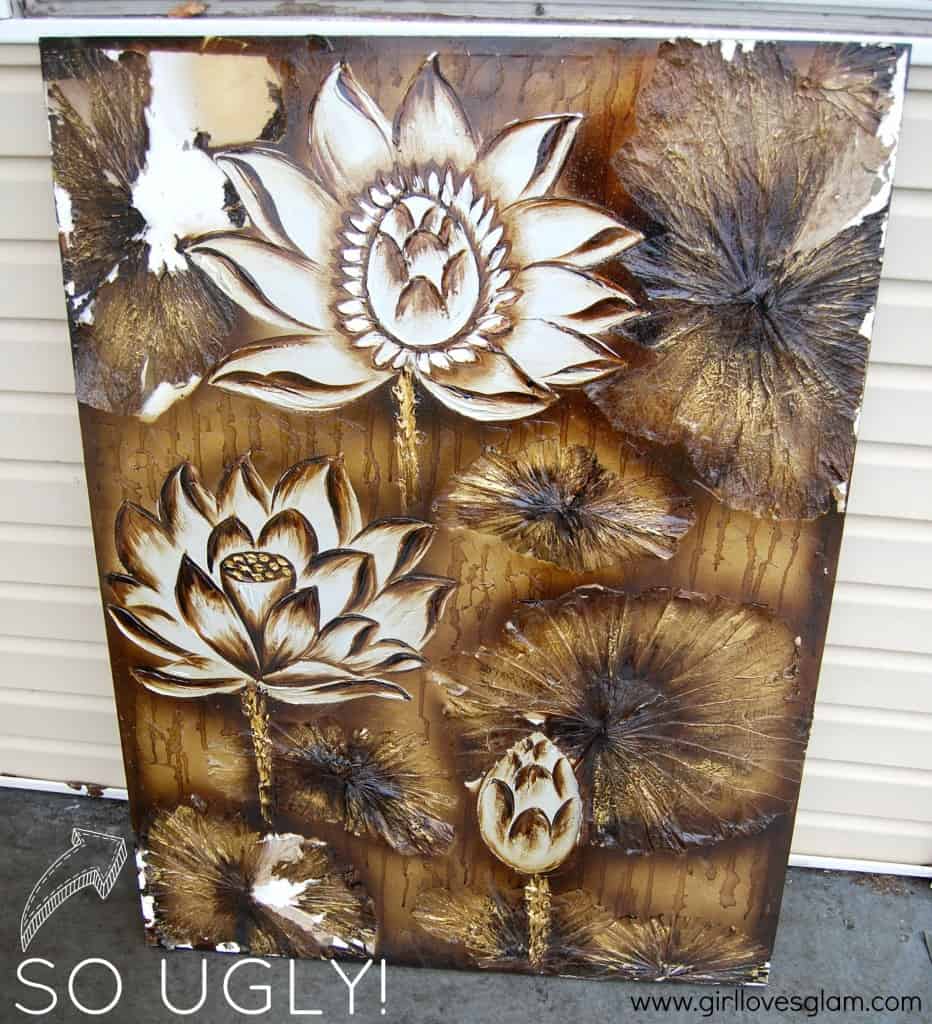 My mom works at a home decor store. Sometimes, when things are broken past repair, they either throw them away, or give them to someone that can find a new use for them. When my mom told me she had some huge, ugly canvases that I could have for FREE, I jumped on the offer! I got three of these ugly things! Not only are the flowers plastered on the canvas, but there are also flowers made of real life leaves on this thing that were falling off. So ugly! I knew that I wanted to use only the frame of this canvas for my photo canvas, so I cut the ugly canvas off. If you don't have an ugly canvas to work with just make a canvas frame by nailing wooden slats together.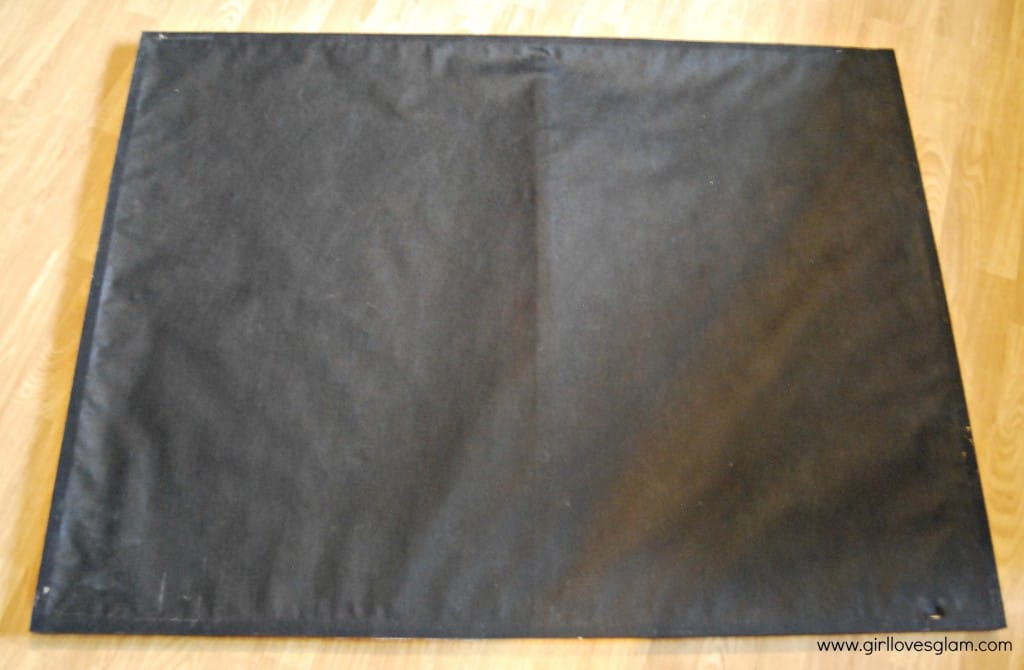 I flipped the canvas on the other side and laid the picture on top of it to line it up just right. This is when I learned a lot of things NOT to do. Do NOT try to use Mod Podge on an engineer's print. The paper is too thin and the picture will ripple. Do not try gluing the engineer's print. It won't stick.
Here is what I DID do. I took black Duck tape and I taped the print onto the canvas! I pulled the print really tight as I taped it and I am SHOCKED at how good it looks! You can't even tell that it is Duck tape until you walk right up to it and look at the edges. It was so easy and looks really good with the black and white picture.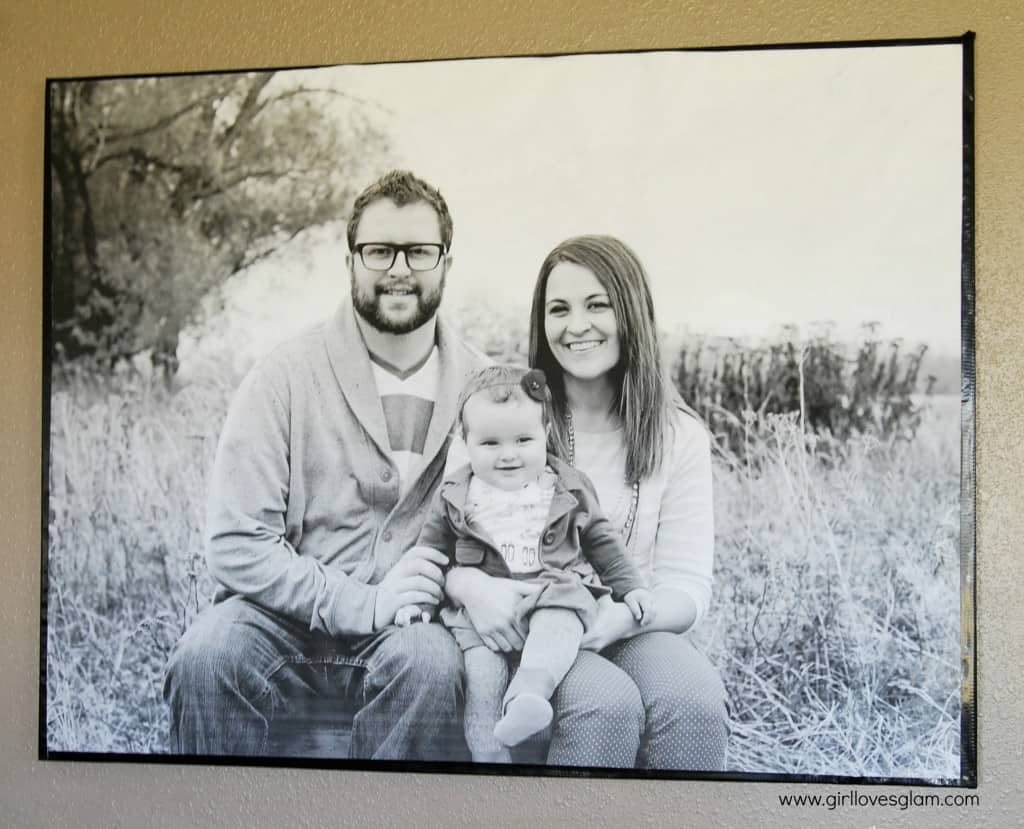 I hung it up and now I can enjoy my inexpensive, giant piece of art!
Thanks for having me Kristen! Come visit me on my blog or on my Facebook page!