I'm so delighted to have a lovely home tour from Kelly here today, she is a fabulous photographer in Houston, and her home is filled with so many fun and creative ways to display pictures–hooray for inspiration! Lovin' that cereal box shot in the kitchen;) Also LOVE that she shares links to the etsy shops she purchased unique decor in her home.
Hi! I am Kelly of Kelly Garvey Photography. I was a mixture of excited & nervous when Kristen asked me to do this because my house needs alot of work! We need to move & re-decorate plus I have so many projects that I haven started & haven't finished or just have not started at all & so many things I want to change! But here I am…so flattered to be here showing you how I have displayed my pictures in my home. Thanks for checking it out! This gave me the kick I needed to finish some projects that I've been working on for too long, so thanks Kristen!
For the visual…this is me & my boys 🙂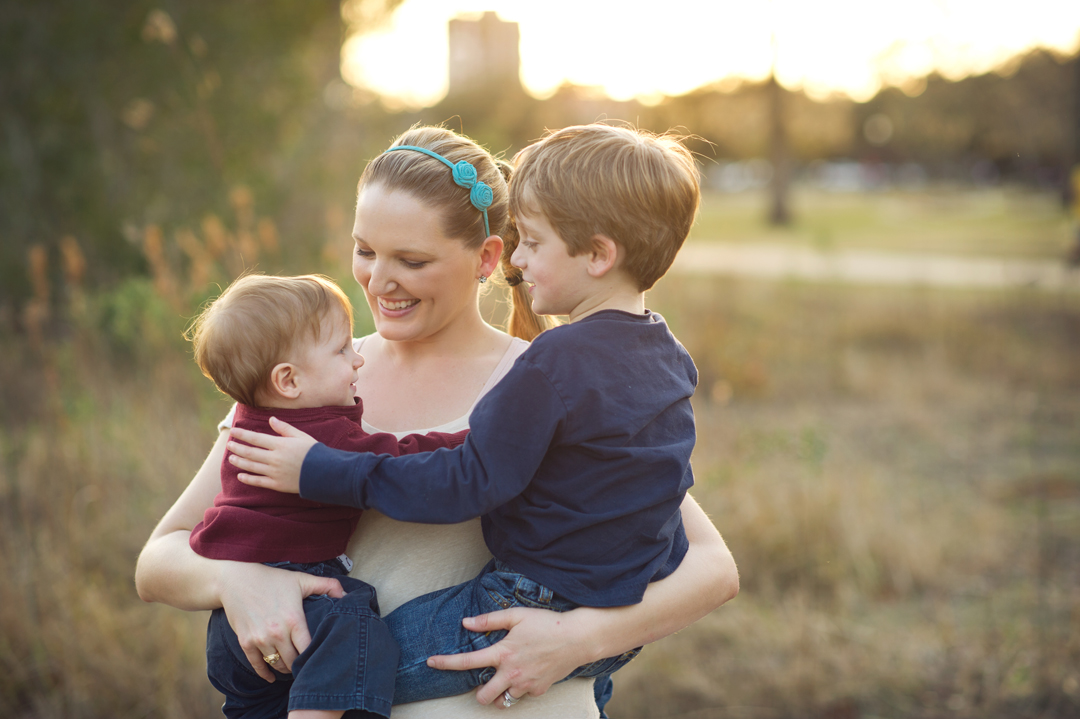 Okay, onto the important part….PICTURES!
For years I hardly put pictures up in my house because I had trouble picking which ones to use & couldn't decide how to display them. I was afraid I'd change my mind about which ones were up & want to switch them all the time, so I just did NOTHING. About a year ago I just let it go & started putting pictures EVERYWHERE! Do it. I feel like our house is finally a home (and of course, just in time for us to be thinking about moving). So I have gotten sick of a couple of the pictures I originally put up & switched them out since then, big deal right? When I first started adding pictures to our home, my goal was to go frameless with stand outs & canvases but since then I changed my mind. I don't want to have one thing through out the entire home…that would get boring to me. Now I'm embracing variety. I do like frames in groupings so I'm glad I didn't go completely frameless.
Sorry these pictures are crummy with bad shadows & color…it's been pitch black & rainy all day so I had to keep on the nasty overhead lights for all of these. Oh well….okay…here we go!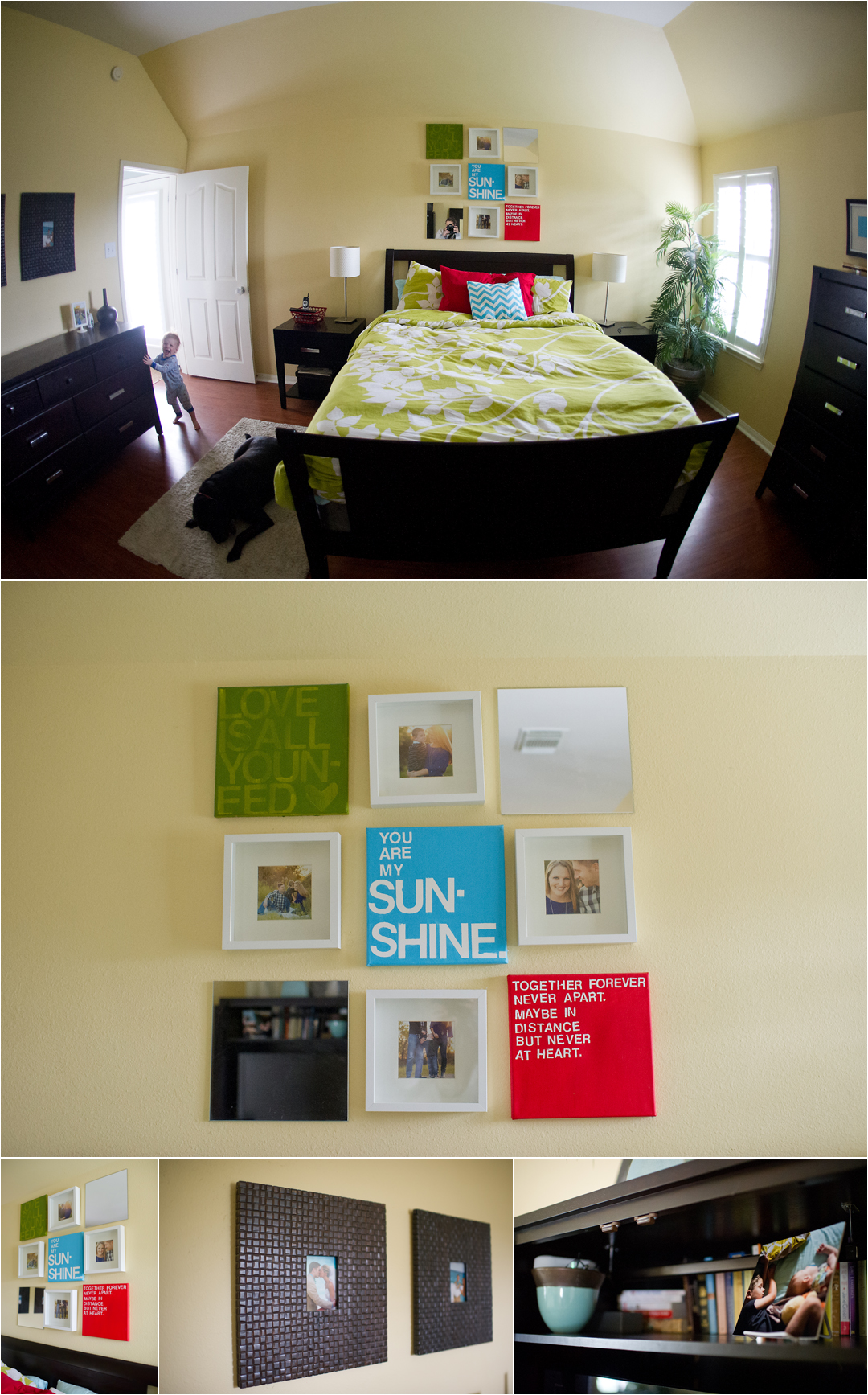 I bought the mirrors & used the 9×9 frames from Ikea to showcase our session with my friend Jodi Arego. I am so grateful for all the friends in the b usiness who have taken our pictures through the years allowing us to have some family pictures! Okay, back to the room…I made the canvases myself. I know, I know…for those of you who do that for a living, feel free to laugh at me! They're not great but I worked so hard on them I just had to use them! The wood frames are from Z Gallery. I like buying prints mounted on styrene & randomly putting them through out the house with picture easels. Super cheap, easy & simple way to incorporate them into the home in tight spaces.

Miles nursery was my project…I started gathering things to use the day I found out I was having a boy. I wanted that Dwell bedding so bad when I had my first child but didn't want to spend so much…this time I just had to do everything I had wanted to do & go out with a bang (it's our last kid afterall!). It was so easy to incorporate pictures with this theme. Dwell has a bus picture frame I bought (along with a board book, puzzles, all sort of fun accessories). I need two more 8X8 canvases to finish the wall above the Ikea shelves. I've picked one from each N, 3 & 6 month session I did for Miles. The 9 month session hasn't arrived yet & he'll be one soon! The right wall was fun to hodge podge together. I chose to do a mix of pictures & homemade canvases. I got modern prints from etsy from all different sellers: urban tickle, parada creations, trendy peas etc. Once again the frames are the Ribba style from Ikea & I made the canvases. I got one of the print designs from Drew Bittel on the momtog blog. Thanks Drew!

This is my newest addition – just finished it yesterday for this post! It was so nice to have a kick in the rear to finish this project…we had purchased it but was putting it off for over a year! I LOVE this decal. It's from Byrdie Graphics on Etsy. Awesome seller with superb customer service 🙂 I bought the adorable little mini clips from Morel Decor on Etsy. Can you tell I love Etsy & small businesses (along with a couple big businesses too..Ikea & Land of Nod anybody?)? 🙂 I used double face tape & cut it into tiny strips to stick the clothespins on the wall. Then clipped my wallet sized prints & now I have a super easy, extremely non-traditional family tree! I only have about 1/3 of the family up there so I need to get busy taking pictures & adding to it!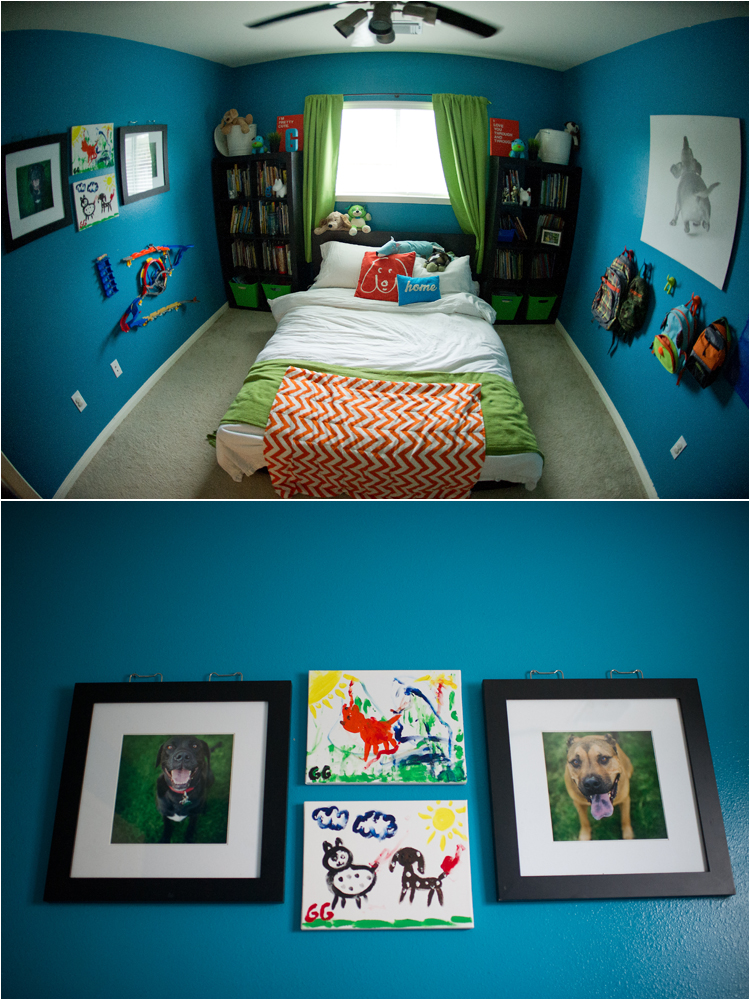 I just try to incorporate pictures in my home in anyway possible! Here are pictures of our doggies for my son's dog themed room & I let him make the canvases…well I helped a little 🙂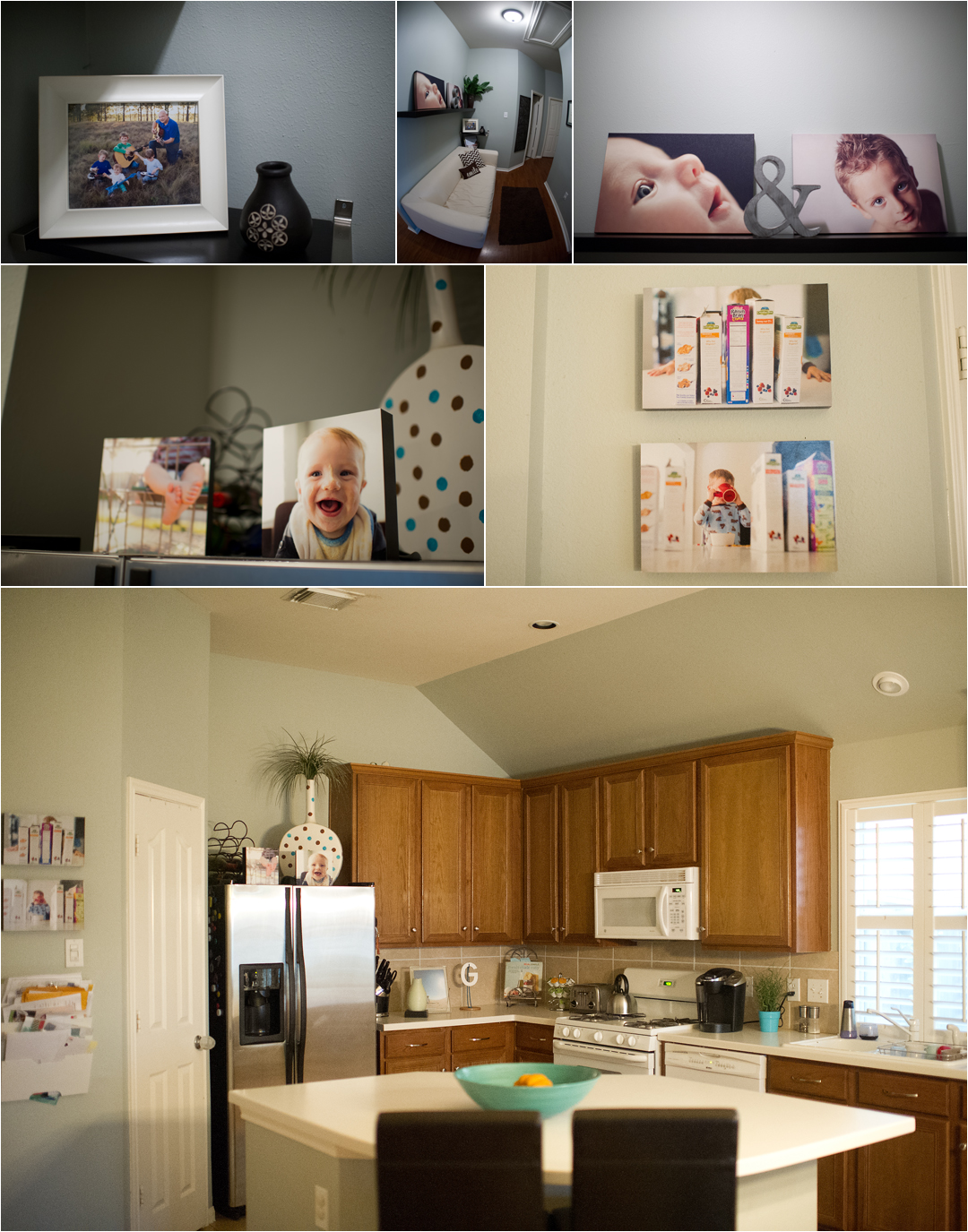 Here are random canvases & standouts through out or main living spaces. I am trying to stick with the food/kitchen/grocery store theme for what I show in the kitchen. My next standout purchase for the kitchen will be a picture I have of my boys in the shopping cart together at the grocery store.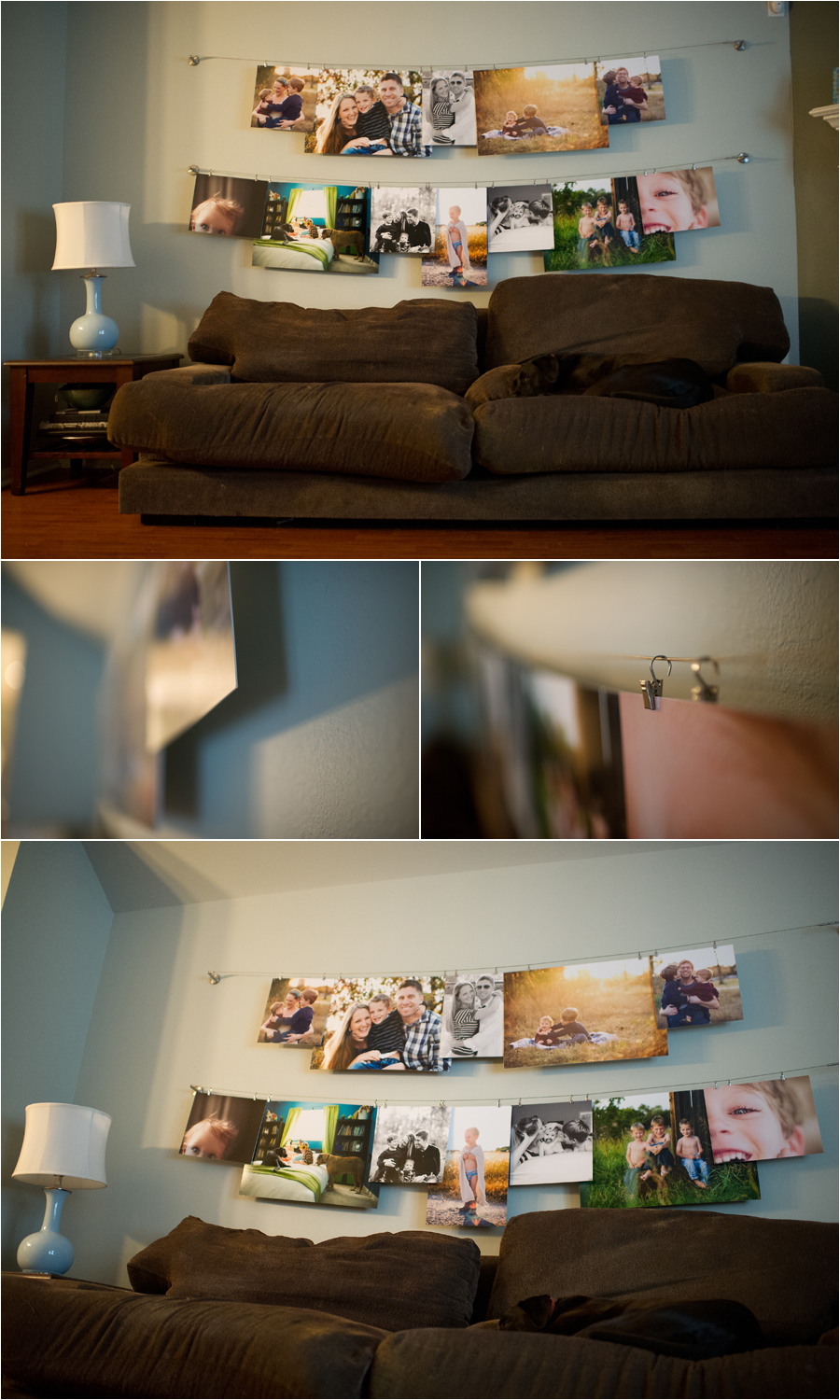 Here's our picture explosion in the living room made with Ikea wire & clip hangers. I use prints mounted on styrene or foam board for this from Millers Pro lab.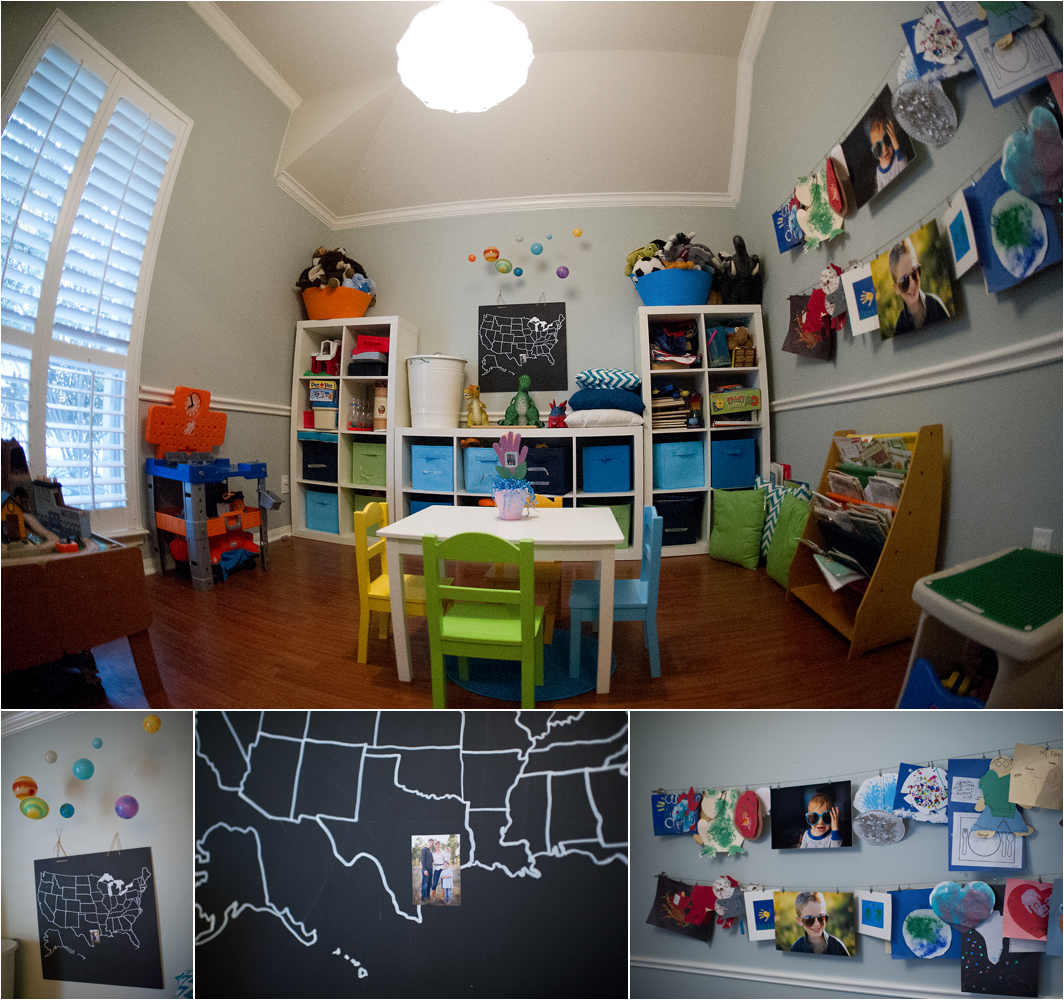 Here's the playroom…it looks like a bomb blew up on a daily basis 🙂 You better believe I moved over some massive piles for picture taking purposes! Again, I use the same Ikea wire & hangers for artwork & some random pictures. I bought the chalkboard from Etsy (hannahjm) when we started teaching our oldest about states. We added a picture to show him a visual of where we live.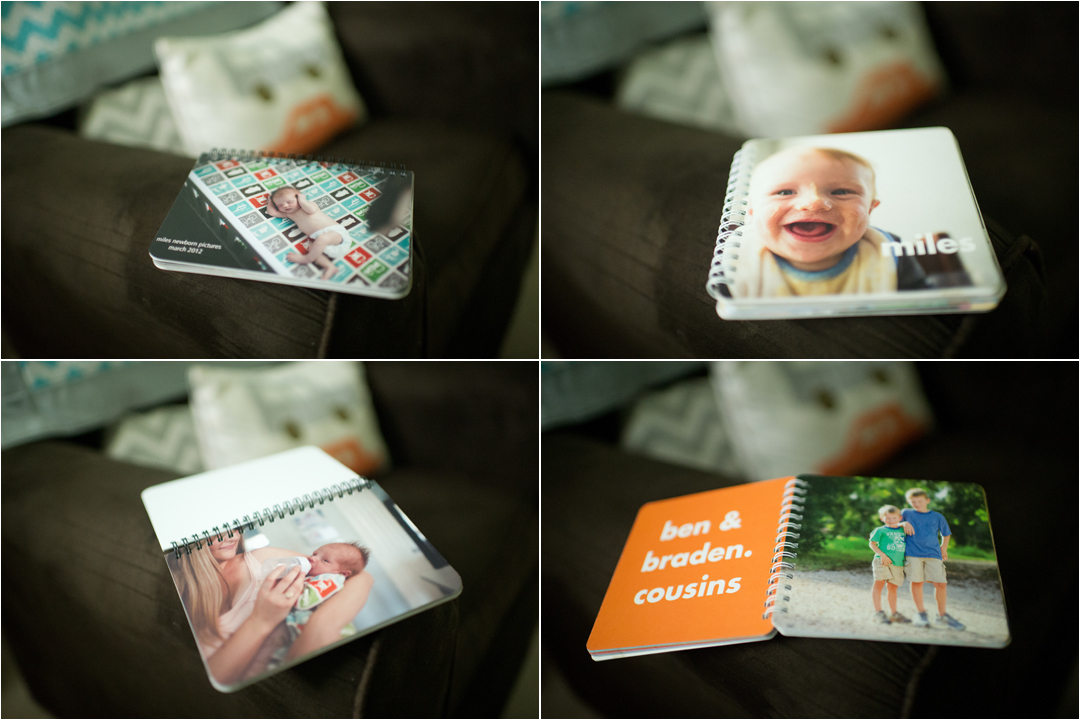 I am about 6 family albums shy of being caught up from the past couple of years but here & there I try out little projects that are easy, quick & not overwhelming just so I can try new vendors. I ordered the names & faces book on the right from Pinhole Press for Miles to learn who is who 🙂
I got a spiral album made from Color Inc Lab (left) from Miles newborn session with Sara Seeton.
I have a new wall that I am so excited about & can't wait to get it up! I had hoped for it to be done before this post but it didn't happen because part of it is a DIY project & I can't get myself to do it! I have this turquoise hanger from Land of Nod with some random 4x6s all ready for it to be paired with a mixture of the silver Anthropologie letters & vintage frames.
Anyway, I'm rambling 🙂 Thank you for inviting me here & thanks for checking out my spaces! If you have any questions feel free to ask, I'm a pretty open book & would be happy to help.