Please welcome some of my most favorite blogging friends, the Lolly Jane girls! I met these cute twins last year at a blog conference, and they've been my texting/phone buddies ever since. I even got to hang with them on a layover a few weeks ago for 5 hours–it was the best layover ever!  I love their decor style, and I know you will, too.
Hey there Capturing Joy fans! We are thrilled to be here as Kristen's guestie for her fab series, Decorating with Pictures. Kristen also asked us to share another space of ours last year after her series, you can find that post here. Today we're sharing how I (Kelli) have easily revamped a dead space in my home with inexpensive decor, giving it a makeover with a punch of color and personality.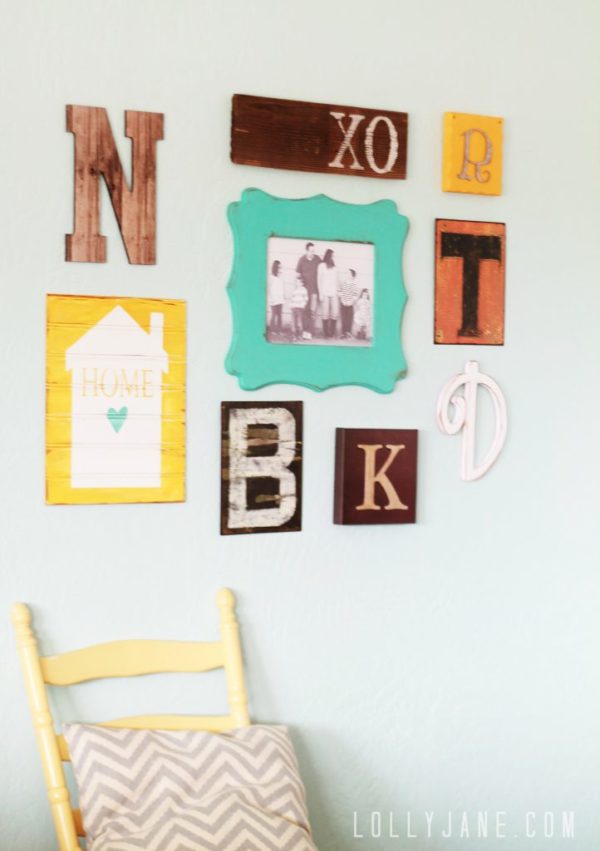 But first, to quickly reintroduce ourselves, we are twin sisters Kelli & Kristi of Lolly Jane, an eclectic DIY blog filled with home improvement tips and projects, holiday crafts, free printables, DIY home decor and when we're feeling really domesticated, a tasty recipe or two.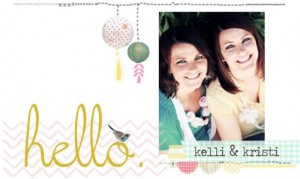 We're both mommies so of course our homes are also filled with pictures of our families. This particular wall of pictures is in my kiddo's space, the playroom. I want it to match the rest of the house so I ditched the primary colors and little kid decor but decorated in a way that still makes my kids feel included. To do this I collected letters of each of my family members 1st names from all over (craft store, thrift store and yard sales) and paired them with a bright funky framed picture from our most recent family photo shoot, a simple piece of barnwood art and our Joss & Main knock off home sign. Once I had all of my pieces to create a gallery wall, I laid them out on the floor to determine how they would display together….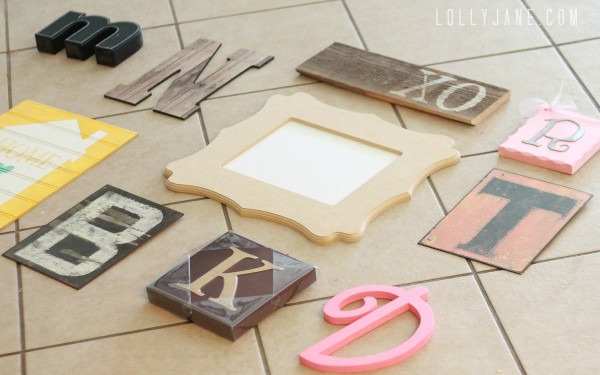 …then simply hung them! My littles had a fun surprise after school finding the letter that was "theirs" and showing it to their siblings.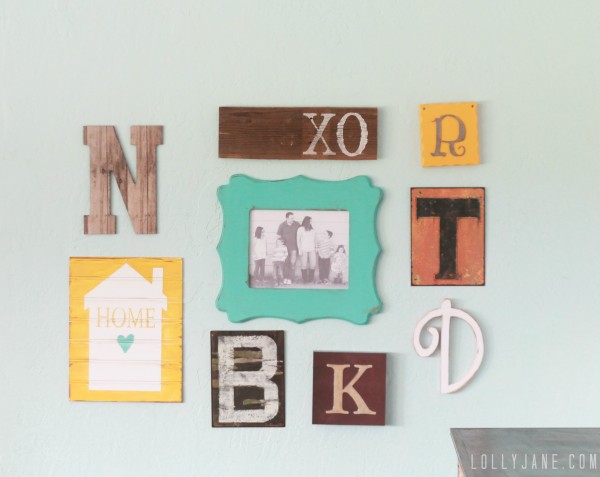 Want to see the before and after?

Big difference! Did you notice that fun ombre accent wall to the left of the newly decorated wall? You can take a peek at the tutorial here and click here for the tute on that giant chalkboard. My little have their own space on the opposite side of this wall that is filled with their cute art work and sweet handprints on canvas. You can also take a looksie on our blog, FB or Pinterest boards or follow along on Instagram for more weekly ideas on how to spruce up your spaces.
A big thanks to our dear friend Kristen for letting us crash her space today. Love ya, girl!