I've been a fan of Mod Podge Amy for quite a while, and I'm so happy to have her here today, wrapping up the guest posts for this series. I LOVE how she's sharing her cute little pup, and reminding us that we don't need to hang pictures, but to just have them out! Such a cute little cube she has created from her Instagram picctures!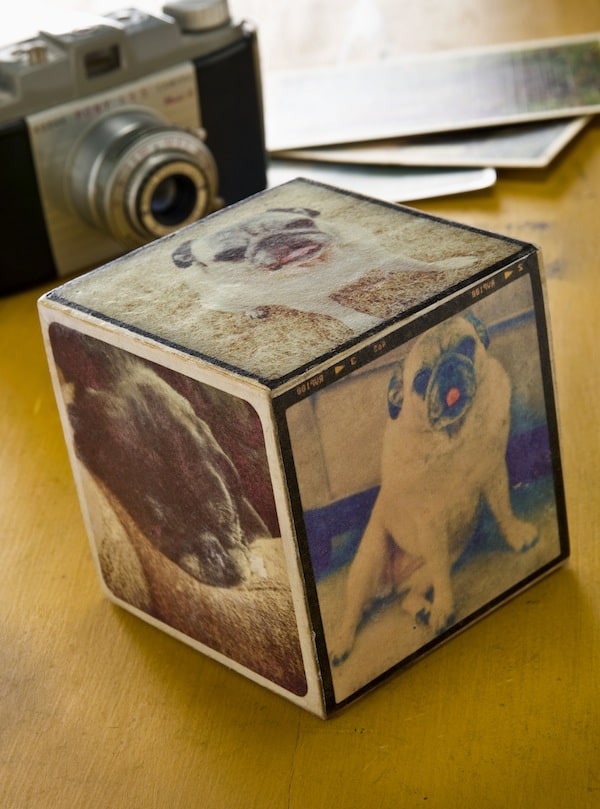 Hello! I'm Amy from Mod Podge Rocks – so pleased to be here on Kristen's blog today! I'm talking about decorating with pictures . . . but my situation is a little different from many others. I don't have children, and also, I live in an apartment. I can't go pounding holes in my wall, and I don't want to spend a zillion dollars on command hooks. But don't be sad for me . . . I still decorate with plenty of puppy and boyfriend pictures!

I decorate with pictures two ways. The first way that I decorate is by doing craft projects with my photos. I particularly love Instagram – projects like this Mod Podge photo transfer block incorporate my favorite photos from the world's best smartphone app (in my humble opinion). I like to get photos OFF my smartphone and into my decor. Thank goodness for the fun filters so that I don't have to be a super talented photographer like Kristen.
Speaking of Instagram, I enlarged a few of them, put them behind glass and just propped them up on my bookshelf. In my opinion, you just don't need to frame everything.
So besides using my photos in DIY projects and displaying those, my second tip is thatI use my bookshelf as the main display area for photos. I have a huge black bookshelf from IKEA . . . and I love it because I can put photos on BOTH sides of the shelf! So I can see my beloved pictures from both my bedroom area as well as my living room area. It's a win-win situation.
If you are like me and you don't have a lot of options for hanging photos, consider a huge bookshelf or other piece of furniture to use as a photo display. Add other tchotkes side-by-side with the photos (like my blue gnome) and it makes for such fun decor.
Thanks so much to Kristen and her lovely audience for having me. Swing by Mod Podge Rocks any time to get your decoupage fix. Or juts to chat. I love visitors. See you soon!