I met Leanne last summer when I was a guest on the Studio 5 TV segment, she was the segment after me! She's got a fabulous blog, and momma to 8 kids, which I am sorta jealous of…enjoy her share!
Hi, I'm Leanne and I blog at Organize and Decorate Everything. I'm so excited to be participating in the awesome series created by Kristen. I love that she encourages us to use family pictures in our homes. As you can tell by the name of my blog I love decorating. Using family pictures in my decorating is one of my favorite things to do. I love being surrounded by photos of those I share my home with. This wall is right outside my bedroom. It's comforting to see these favorite pictures of my younger kids every morning.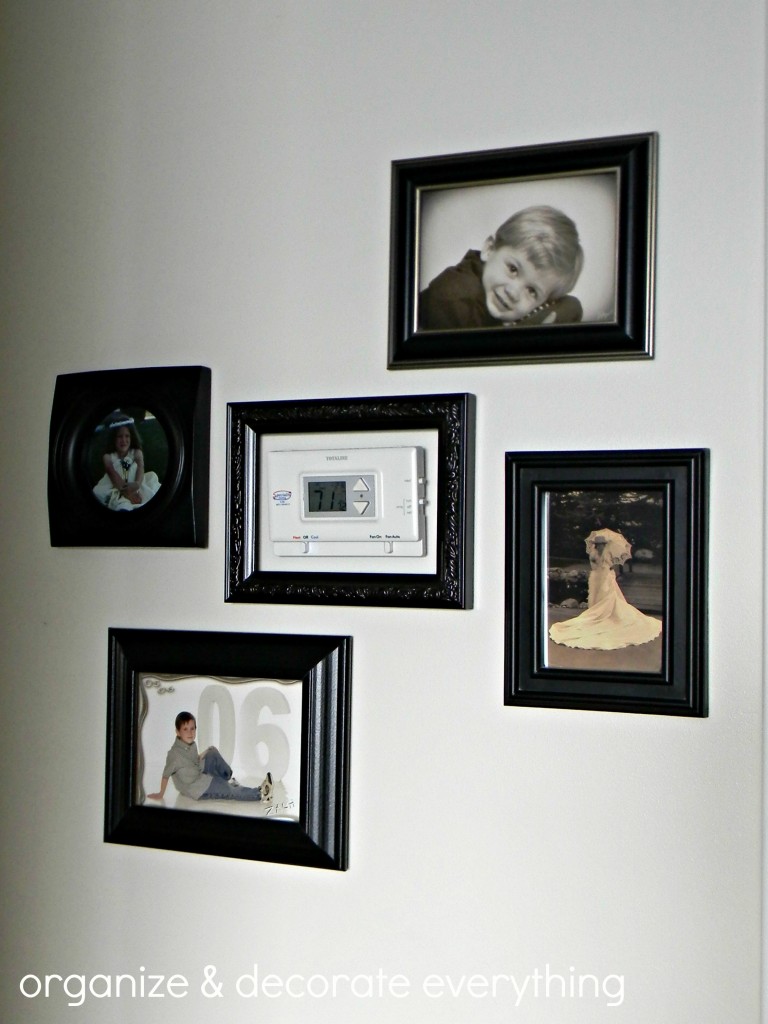 I've taken a few of my favorite pictures and put them on canvas. I prefer pictures of my family I've taken while we're on outings or vacations. They may not be professional and I don't have a fancy schmancy camera but I like the fun and relaxed look of them. Pictures take me back to that moment and I love being able to relive some our our favorite memories.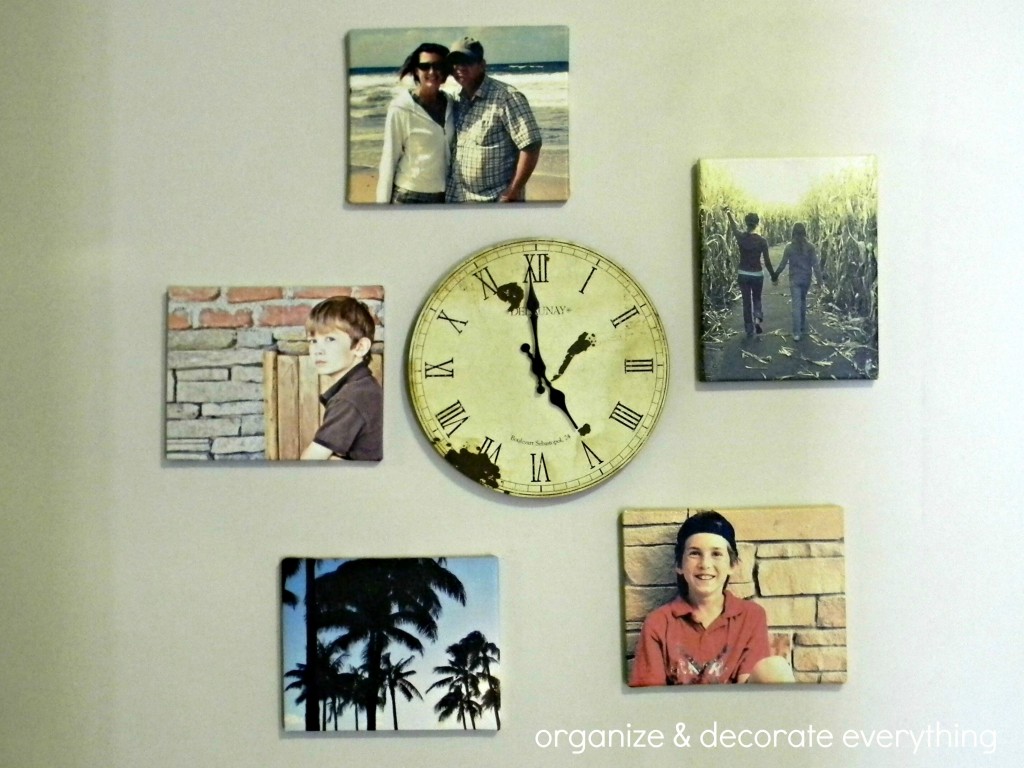 I also like to change pictures often so I look for ways I can display my favorite pictures and change them with the season or holiday. Don't you love looking back on old Christmas and vacation pictures? These old windows are in my living room and I change them at least 4 times a year. It's easy to secure pictures to the windows by using washi tape and it doesn't harm the pictures.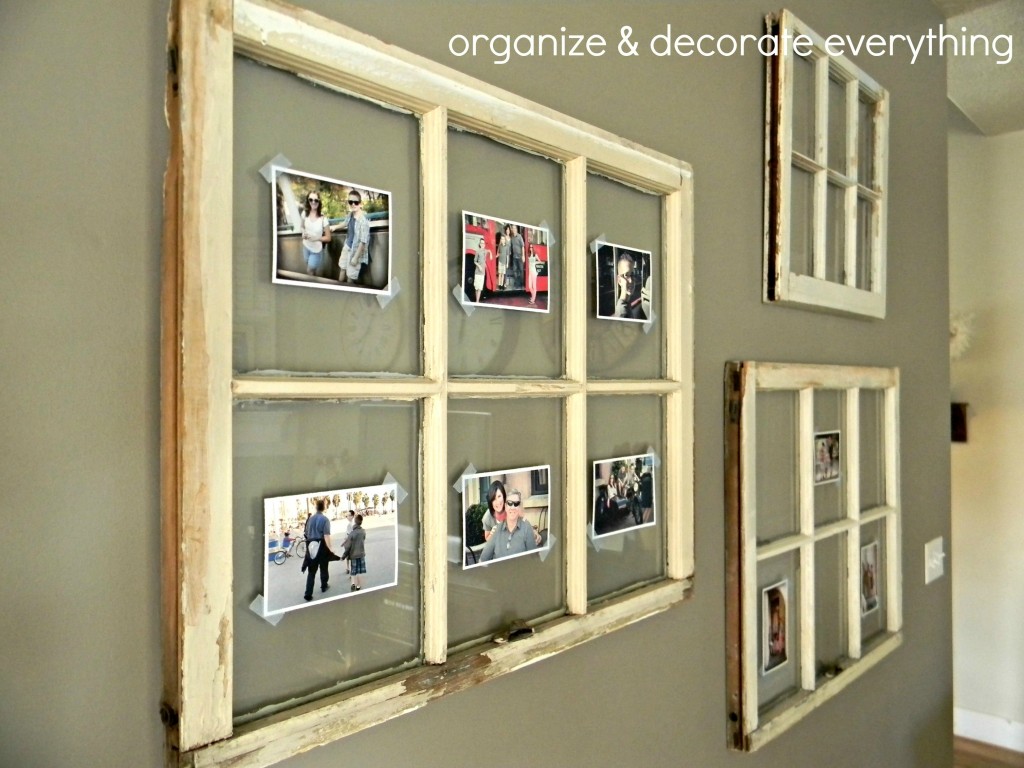 I also love re-purposing items and when I got tired of an old picture and it no longer fit my decor I thought of something else to do with it. Thank you Kristen for encouraging me to finally get this done. The first step was painting it an awesome color. I used Global Blue by Krylon. I love how paint can change the whole look of something so quickly and turn it into something you'll love having in your home again.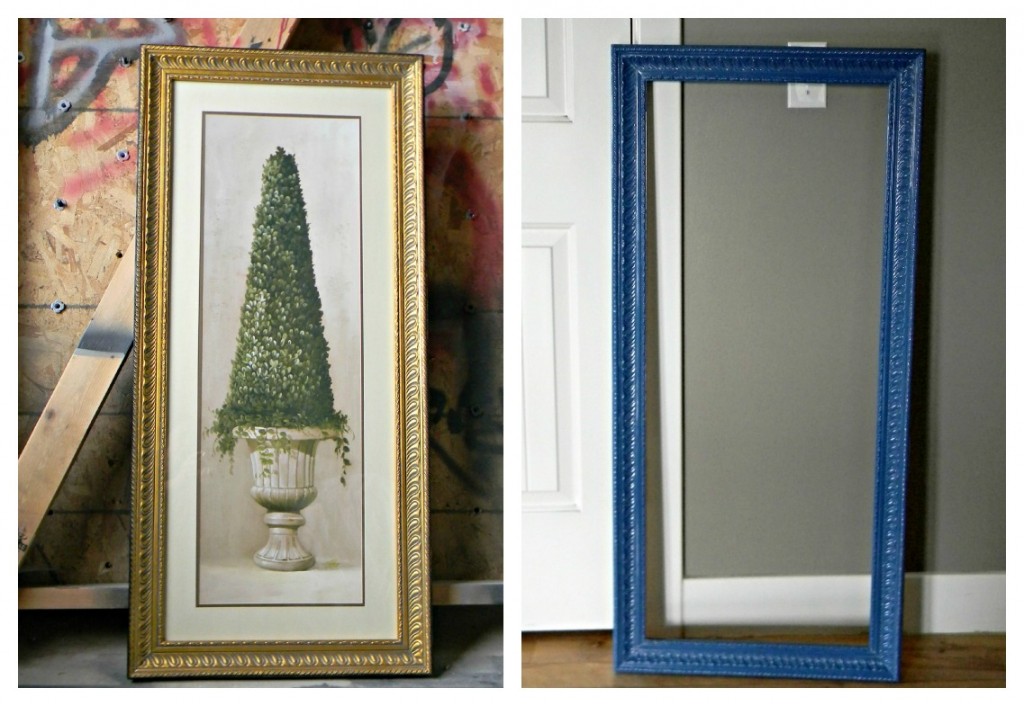 After I painted it I wrapped the back of the frame in a light gray fabric. I've had this fabric for years and was excited I was finally going to use it. You could also simply paint the back but I love the texture the fabric adds to the project. I cut the fabric about 2″ larger than the back of the frame all the way around. I wrapped the fabric around to the back and used hot glue to secure it, then popped it back into the frame and bent the prongs back down to hold it in place. Pull the fabric pretty tight so there are no wrinkles.
It was time to add some fun clips to the front. I used clips so I can change the pictures out whenever I want. I measured for the clip placement then simply secured them to the fabric with hot glue.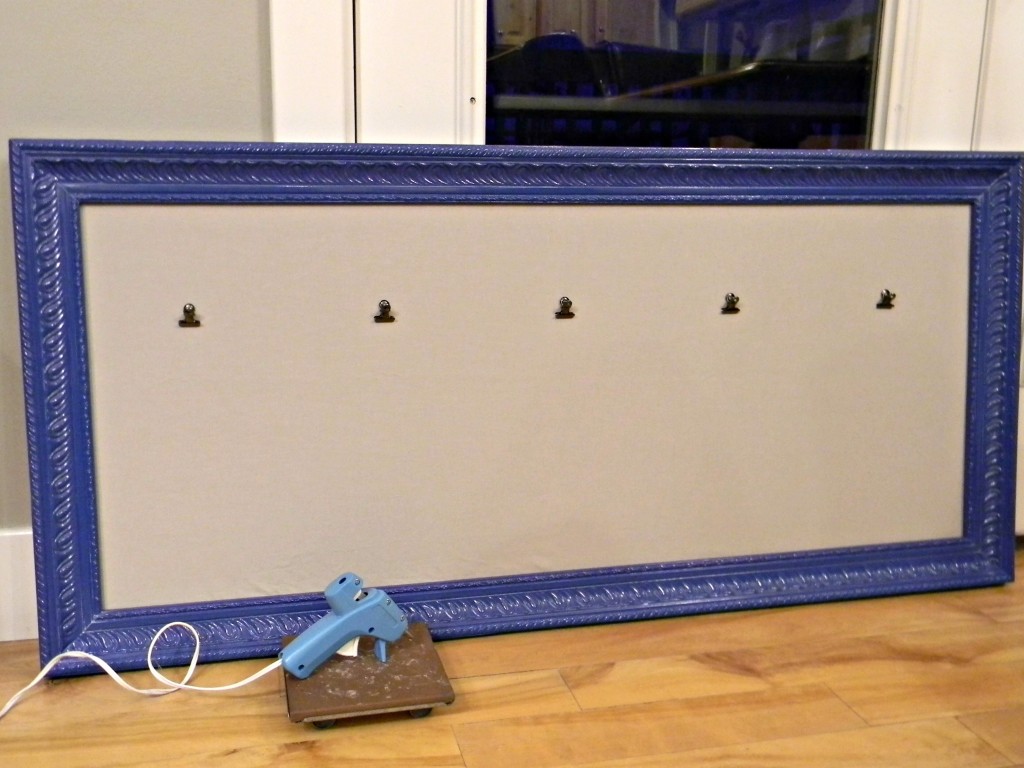 I spaced the clips so they can easily hold a 5×7 in either direction.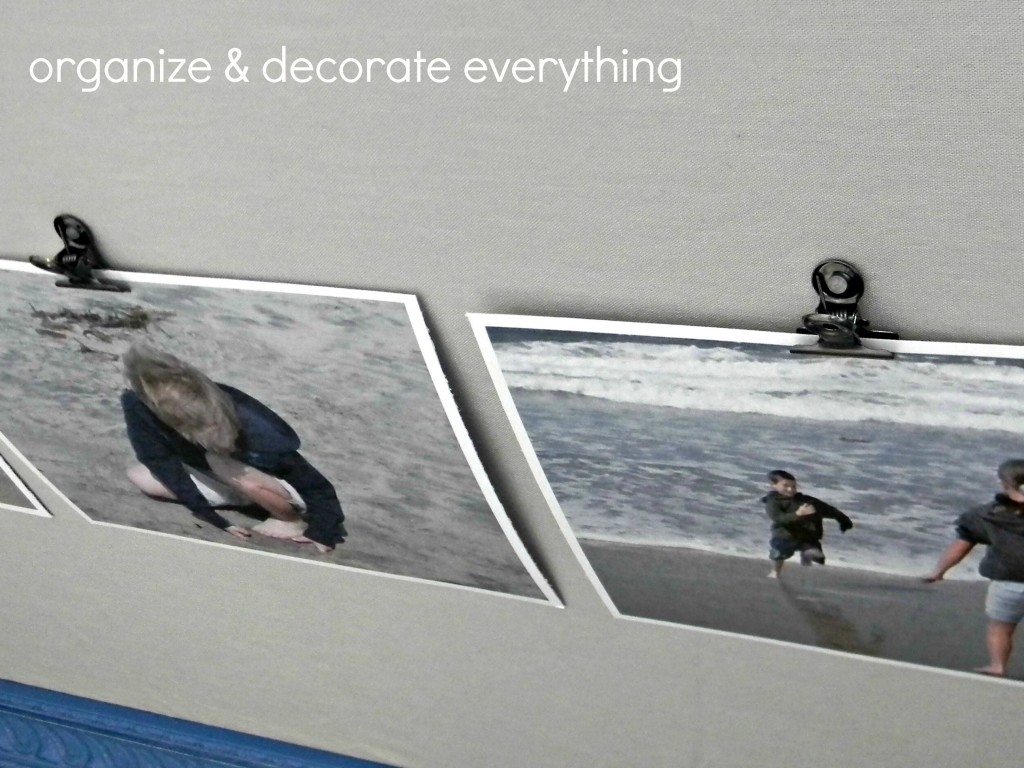 One of my favorite memories was our trip to San Diego so I simply printed off the pictures that had been sitting on my computer. It feels so good to have some of my favorite pictures on my wall now.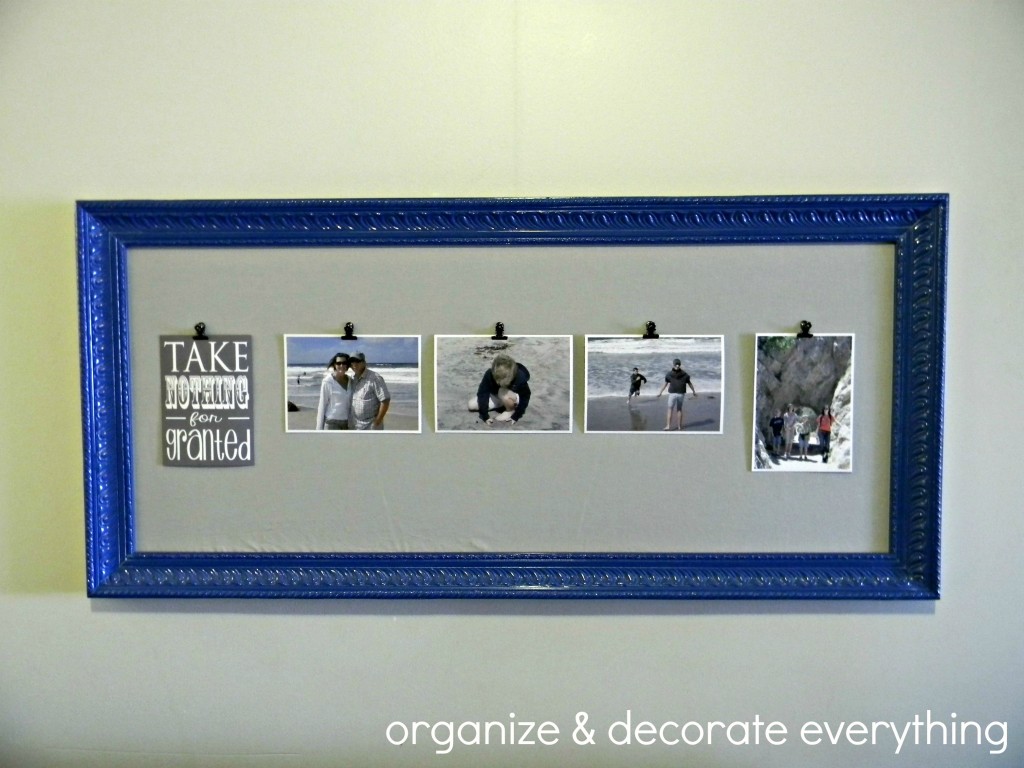 We have a loft area upstairs between the kids bedrooms that acts as their family room. I haven't done a lot of decorating up there so this is a fantastic start. I'm excited to add more family pictures to this area and to incorporate more fantastic colors. The kids are loving seeing their pictures in their area.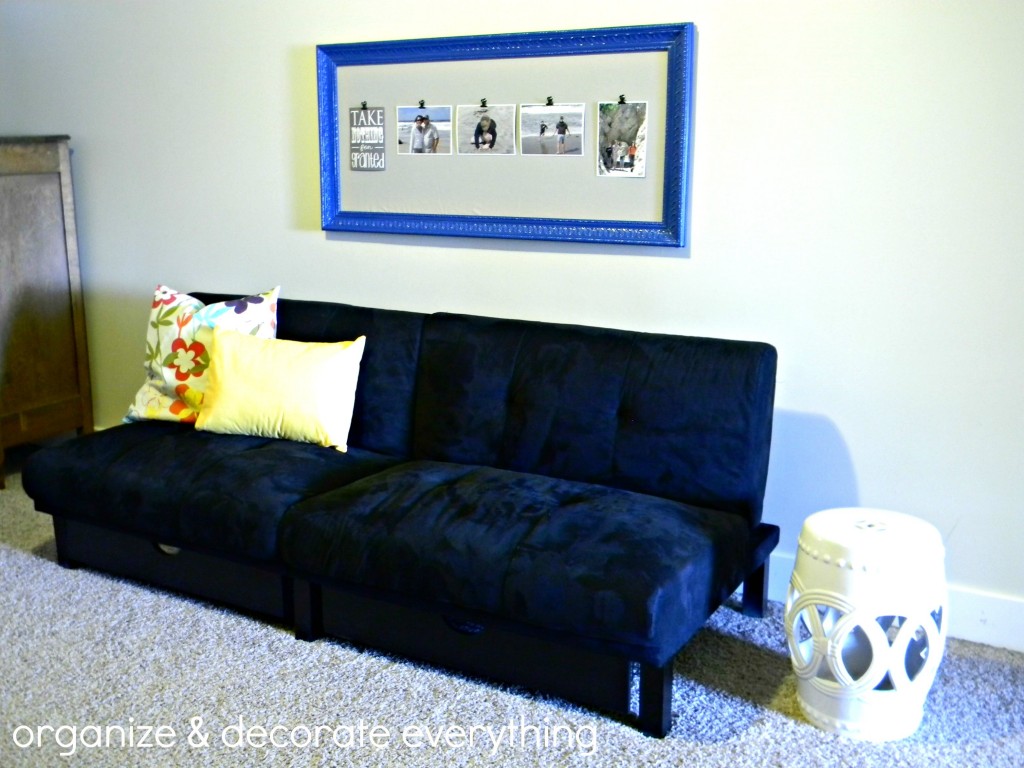 Adding family pictures to your home doesn't have to be expensive. By using supplies I already had, this project was totally free. I love this new way of displaying family pictures in my home. Thanks Kristen for letting me share my ideas.
Find Leanne on her blog/Facebook/Twitter/Pinterest
{If you've missed any entries from our creative bloggers, click on PHOTOGRAPHY, then Decorating with Pictures above.}