I'm happy to share with you my friend Mique! She is filled with all sorts of crafty goodness in her bones, and is one saavy gal. I've enjoyed getting to know her more recently. I'm looking forward to the Queen Bee Market she runs at the SNAP conference! She slipped through my hands, I forgot she contributed to the series last year, so enjoy another great share from her!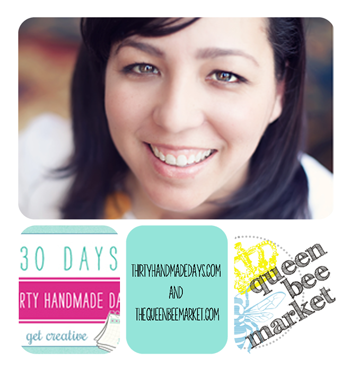 I'm Mique from Thirty Handmade Days (@30daysblog) and owner of the Queen Bee Market. I'm super happy to be back here today to talk about decorating with pictures. Last year I shared my Instagram posters. They are still the first thing people see and always talk about when they come to my house. I can't wait to add more! (especially since I've become somewhat of an Instagram addict since last year— I could probably cover ALL the walls in my house with IG pics!)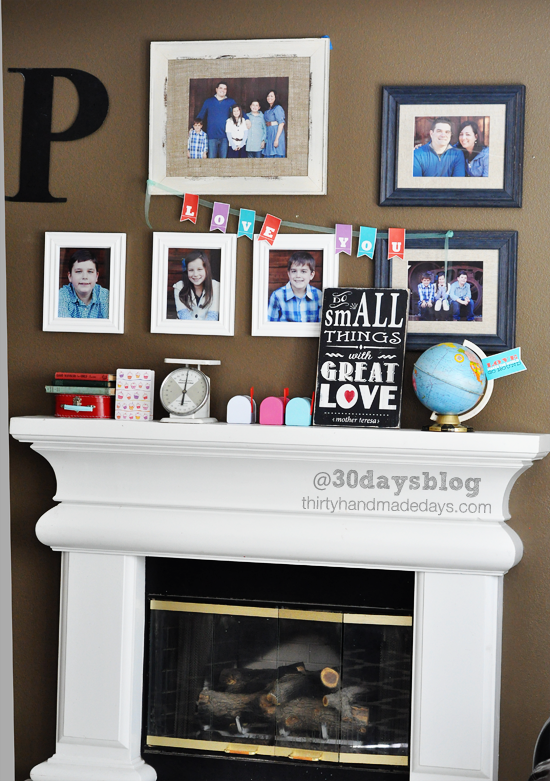 Today I wanted to share my family room wall. Even though a lot of my walls have pictures on them, this is the room we spend the most time in as a family. Before I go on, let me just get this off my chest- DON'T JUDGE ME BY MY BROWN WALL. Plans are in the works to change it but I just couldn't get it together in time to take pictures for this post. Also- don't judge me for the crookedness. Or the large P that needs to be taken down… Ok… moving right along…..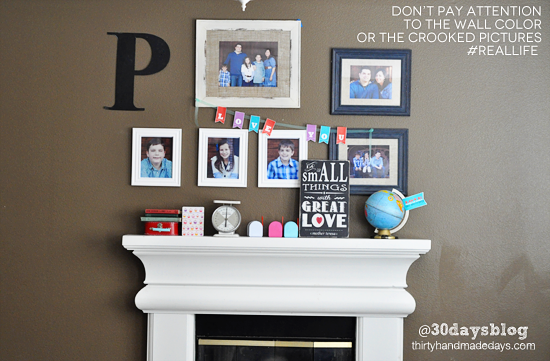 This is one of my favorite spots to change out holiday decor. I like adding things to the mantel to hang from pictures like the little love banner. I think life is in the details. And I think that banner makes the pictures pop out more. I love mixing old and new things together. Josh isn't so sure what an old scale has to do with family pictures. Pffftttt….what does he know?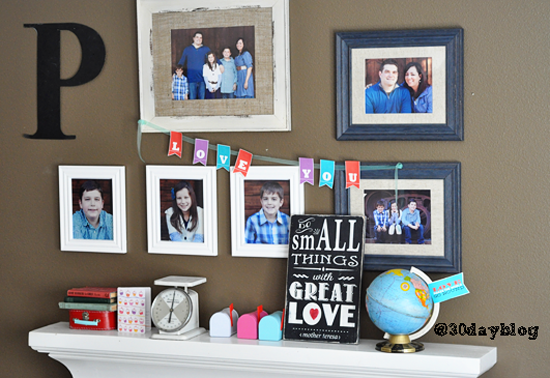 A little over a year ago we had family pictures taken and I love how they turned out. They capture our family so well- minus the hair pulling, yelling and kids poking to bug each other. It took A LOT of pictures to get them just right, but I now love looking at them.
Thanks for letting me share one of my favorite spots in my house Kristen!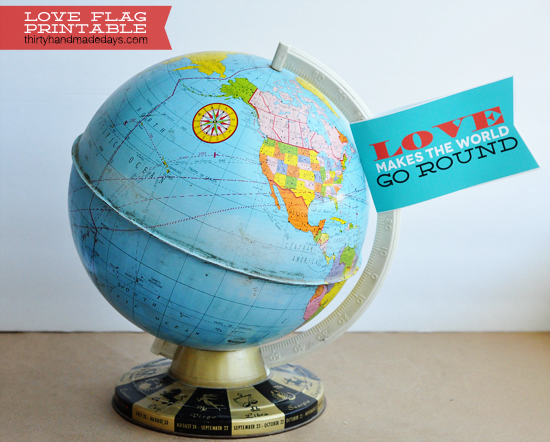 Visit 30days today to grab this little love flag that I added to my globe
for my mantel just in time for Valentine's Day!
Oh and if you're coming to SNAP! stop by and say hi at the Queen Bee Market!
Applications are open now until February 10th for vendors.
You can find Mique on her blog, Thirty Handmade Days/Facebook/Pinterest/Twitter
If you've missed some of the contributors in this series, click HERE to see thumbnails of all of them!