I'm delighted to share a fun tradition we have for our Halloween meal each year, but it also is fun for anytime in the Fall, it's our recipe for Dinner in a Pumpkin!
We've been making this in our family for nearly 10 years, having modified a recipe I found that long ago. It's a simple meal that works outside of a pumpkin, too, but how fun is it to scoop the meal straight out of a pumpkin??? More on that in a minute, it's the 10th of the month, and some friends and I gathered to share some PUMPKIN goodness with you!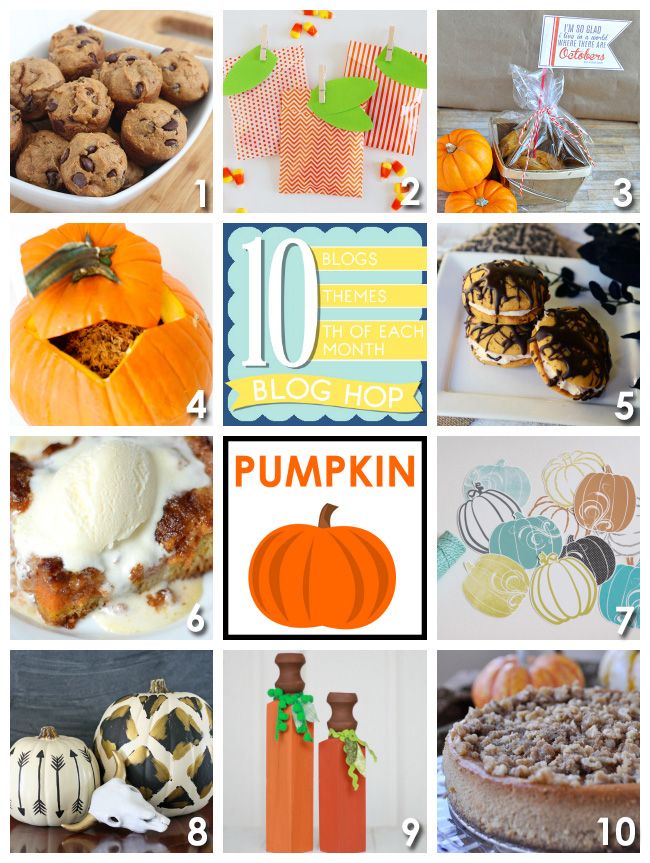 1. Mini Pumpkin Chocolate Chip Muffins – Two Twenty One
2. Pumpkin Favor Bags – Eighteen 25
3. Printable Fall Tags & Pumpkin Cookies – Thirty Handmade Days
4. Dinner In A Pumpkin – Capturing Joy
5. Pumpkin Whoopie Pies – Or so she says…
6. Pumpkin Crumb Cake – Simply Kierste
7. Fresh Fall Pumpkin Garland – Landeelu
8. Tribal Inspired Pumpkins – The Crafted Sparrow
9. Wood Spindle Pumpkins – Lolly Jane
10. Pumpkin Walnut Cheesecake – Your Homebased Mom
~~~~~~
Here is a little step by step picture
Dinner in a Pumpkin
Prep time:
Cook time:
Total time:
An easy family recipe fun in the Fall or Halloween Night dinner
Ingredients
1 medium pumpkin
1 lb. ground sausage
2 tablespoons soy sauce
2 tablespoons brown sugar
1 can cream of chicken soup
1.5 to 2 cu. cooked rice
1 (8 oz) can sliced water chestnuts
1 cup slivered almonds
Instructions
Clean out pumpkin and decorate outside with black marker (optional).
Brown sausage.
Mix in remaining ingredients.
Put pumpkin on cookie sheet.
Fill pumpkin with mixture.
Place in oven and bake pumpkin with lid on for 1 hour at 350F or until pumpkin is tender.
Ladle on to plates out of the pumpkin.
Want a FREE copy of 10 Intentional Ways to Bring your Family Closer Together e-book? Enter your email below!