I threw a kids ice cream birthday party for my daughter last year, and someone reminded me in that post that I never shared the tutorial on the fun ice cream cone banner! It doesn't even have to be for a birthday party, but can be made for an end of school party or a summer fun party, or you can even change the colors for a 4th of July party.  It's made with real ice cream cones, yarn, and a whole lotta love.
Ice Cream Cone Banner
Let's get to it!
Supplies you'll need to make a banner:
6-8 styrofoam balls (tennis ball size)
yarn in varying colors
hot glue gun
thick hanging yarn or twine
puff ball cherries on top
felt for sprinkles
ice cream cones
It's a fairly simple step by step process with glueing the yarn onto the styrofoam ball, and wrapping it around and around.
Once complete, glue the ball to the cone.

Since I really wanted a pink cherry on top, I wasn't excited about pink on pink, so I cut some white felt into a cloud-like shape, and glued it to the top to resemble some type of sauce. I cut felt slivers to look like sprinkles. I thought about doing "sauce" and sprinkles on all of the cones, but kinda liked it just on the pink to stand out and unique. Once I got to the second side, I folded the two pieces together. I meant to have it at the back of the banner, but then forgot, but it really didn't matter in the end!
I then took the string, and glued it to the top of the cone, with hot glue. I wasn't 100% sure this would hold very well, but I crossed my fingers, and it actually held up quite nicely!
Here is the banner all strung up! I used 4 colors, and made two of each color.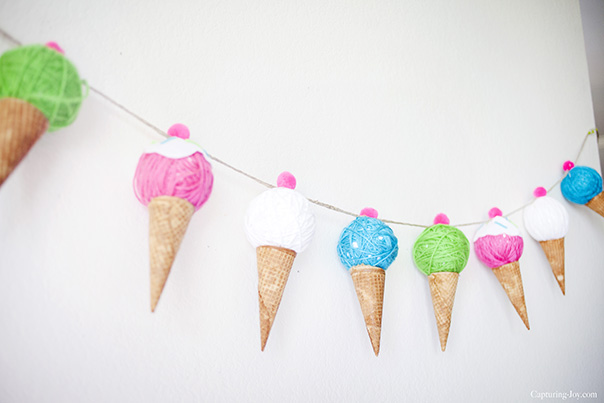 It really was a fun touch to have the real cones in the overall look of the ice cream party decorations. It was a smashing party, and also perfect for any summer gathering, too! Click on the party link to download free printables to match the theme, too.