Today I'm excited to share with you a fun Picture Plaque I've made for my daughter, with plans to make one for each child. I've got a great story behind what inspired me to do this (read below). I'm also a part of a fun series to celebrate March being "Craft Month" with Crafting in the Rain, she asked 26 bloggers  to select a letter, and I chose "P" knowing I could use picture or photography and be good to go! Here is a quick peek at my picture plaque.
And here is a collage of others sharing today: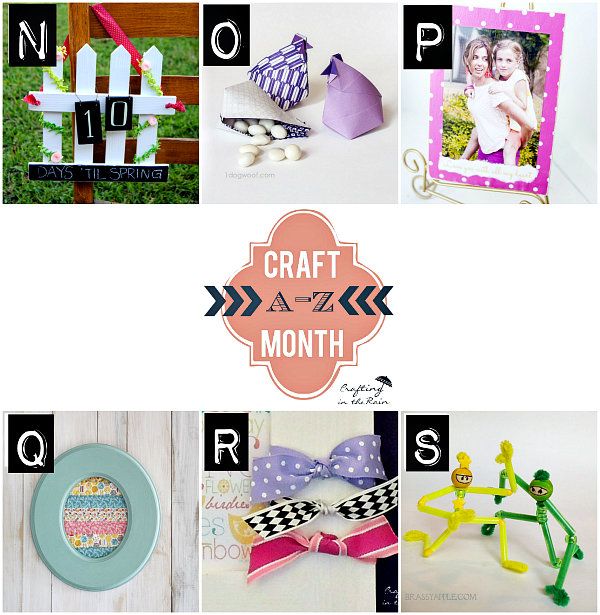 N is for Numbers sign ||  Shaken Together

O is for Origami boxes ||  One Dog Woof

P is for Photo Plaque  ||  Kristen Duke Photography

Q is for Quilted egg  ||  Honey Bear Lane

R is for Ribbon frame  ||  Crafting in the Rain
S is for Stick men  ||  Brassy Apple
~~~~~~~~~~~~~~~~~~~~~~~~~~~~~~~~~~~~For projects A-G, CLICK HERE
~~~~~~~~~~~~~~~~~~~~~~~~~~~~~~~~~~~~For projects H-M, CLICK HERE
Now back to my picture plaque.
I've got sitting on my bathroom counter ledge, the cutest tile picture plaque that my son made for me in school last year. Not only is it a treasure because of his smiling face, but what he wrote to me: You are a great mom, you make me feel happy. Oh, joy to a mother's heart!
As I smile at this daily, I thought about how I could do the same for each of my children, but not just with a picture of me, but a picture of me LOVING them individually. I believe so passionately in decorating with pictures, and displaying our family love around, and have always loved the idea of me with each child in other pictures, but haven't displayed it for them like this.
My friend Heather Walker took this image of my daughter and I on a mother/daughter outing we had, and I simply love it. It's candid, real, and just simple.
With print in hand, I set out to make it sturdy to display.
I cut a piece of wood to size, selected a sheet of card stock paper, and mod podged the image onto the wood. (see my step by step video below)
It was dry in 20-30 minutes. I was trying to be very clever and think of the most amazing quote to put at the bottom, but after brainstorming, I wrote from the heart and simply stated: "Love you with all my heart."
She loved it, which I loved.
So now when she is getting ready for the day, doing her hair, or brushing her teeth she can see this out of the corner of her eye.  Hopefully she'll glance down at it with a grin from time to time, and be reminded how much I love her.
I've created a fun little "how-to" video, that I get chuckles out of watching, you might, too! I wanted to show that this project is for beginners, and can be done in under 30 minutes, using a power tool to cut the wood. This pic is a sneak peek;)