Today as we travel around the world in 7 days, we head to Africa, more specifically Botswana.  I'm hopefully headed to Ghana myself this summer, to visit my parents, but in the meantime, we'll hear from Kim!
Hello everyone! My name is Kimberly, and I blog over at Stuffed Suitcase where I share ideas for creating family memories during travel and life between trips. I'm happy to be here sharing some simple tips for traveling to southern Africa based on my own trip to South Africa and Botswana.
When to go?
Our visit to southern Africa was in January, which is during the rainy (wet) season. However, we didn't actually have any rain during our trip. It's also important to recognize that the wet season can also be the hottest season for southern Africa. The dry season is typically from about May to August, and if you're looking for a safari, that's a great time to go. During the dry season the animals will often congregate at watering holes and the lack of rain makes the greenery die back for easier viewing. However, the wet season, from October to April, can bring beautiful landscapes and birds galore. You'll also find cheaper flights during the wet season.
Where to go?
The southern countries of Africa are often considered "westernized", with Botswana being one of the most economically and politically stable countries in Africa. We flew a direct flight from Atlanta, Georgia to Johannesburg, South Africa, spending about 17 hours in the air.
South Africa has many popular destination spots, especially Cape Town and Kruger National Park. Cape Town is known for featuring memorial tributes to Nelson Mandela as well as a strong wine industry. Kruger National Park has been in the news for some hostile elephant situations, and their practice of culling the herd to control numbers is certainly a hot topic.
Botswana is very sparsely populated with the majority residing in the capital city of Gaborone, and 70% of the country made up of the Kalahari Desert. Safari seekers should look into planning a trip to the north to visit the Okavango Delta area or Chobe National Park. You'll also find thefamous Victoria Falls a day trip away from Chobe National Park.
Namibia, a previous German colony, is the other popular country to visit in southern Africa. Wildlife enthusiasts will want to check out Etosha National Park, which is home to Africa's tallest elephants, lion prides, and black rhinos. You can also visit the Skeleton Coast along the Atlantic Ocean border, known for it's heavy surf.
Immunizations
Every country has it's own requirements for immunization as well as preventative medicines. For my trip to South Africa and Botswana I had to make sure I had the Hepatitis A and Typhoid immunization. The typhoid immunization can be taken as a shot or orally, but my clinic only supported the oral prescription. Many African countries require a yellow fever immunization to even enter the country, so be mindful of your flight segments and check the CDC for your destination immunization requirements. I also had to take malaria preventative pills during my time in Chobe because of a malaria risk in that region. Thankfully my primary care physician was able to handle my needed immunizations, but you can also check with pharmacies like Walgreens, for more extensive immunizations.
Currency
Your USD will have good buying power in southern Africa. South Africa uses the rand, Botswana uses pulas, and Namibia the Namibian dollar. While you will probably be able to use your credit card in many of the major stores and city centers, don't count on it and check for foreign transaction fees. One of my favorite tips for getting international currency is to find out if your bank is partnered with any international banks and find those locations at your destination. I was able to use a Barclay's Bank ATM to obtain money in Botswana and South Africa as they're partners with Bank of America, which saved me from paying high ATM usage fees (there are still foreign conversion fees). You can do a web search for " 'YOURBANK' international partner ATMs" to find out which ATMs you can use and then see if there are any of those banks' ATMs near your destination via their website.

What to Pack?
You'll have to look up the weather for your destination as the temps can vary widely depending on where you are heading and when. A few things you should be sure to pack: any required medicines, a hat to protect from the hot sun, an umbrella – for rain storms and for sun shade. While traveling in Botswana, many of the women walking around were using umbrellas to protect and shade them from the sun. I found having a very lightweight pair of khakis very helpful as it helped protect my legs from the harsh sun, but was light enough not to feel too hot. I did wear many shorts, and comfortable close-toed sandal shoes are always a good idea. If you're hoping to go on safari, pack a good zoom lens and bag! Definitely pack some sunscreen & bug spray!
Food
Beef is a very popular product in southern Africa, with cattle farming being a top industry in Botswana. In South Africa you should definitely pick up some biltong, which is dried, cured beef, often with seasonings. If you like fish, consider trying some kingklip, which is delicious (just don't do a google search for the fish – it's not appetizing, but tastes great!). Two other unique experiences are ordering pizza, which is served with sides of fresh jalapeños, garlic, and parmesan cheese, and enjoying some local hard ciders or Pinotage wine if you enjoy alcoholic beverages. Read more about my Africa food experiences from my time in Botswana.
Safari Experiences
One of the best parts of my trip to Africa was my time in Chobe National Park on a river safari cruise and safari drive. Taking part on a safari is one of the most popular tourist activities for those visiting southern Africa. Please keep in mind that these are wild animals and I highly recommend that you take a guided safari tour. Some people choose to drive themselves through the parks, but the guides know the body language and calls of the animals and can help keep you safe and guide you to locating the hard to see animals. Know that predators are stealthy and hard to find, so seeing lions and leopards is rare. Elephants are plentiful in Chobe National Park in Botswana, and being charged by a hippopotamus in the Chobe River will always be an amazing memory.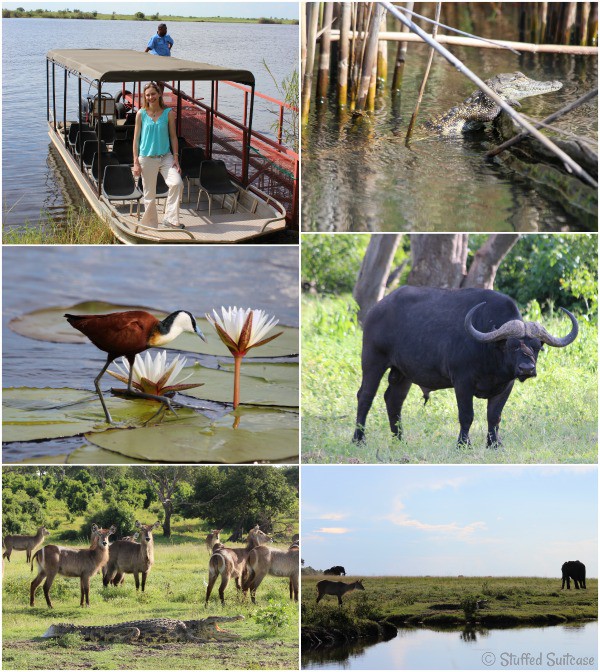 Souvenirs
I purchased quite a few things during my trip including some wood serving utensils, a wood bowl, a slate zebra art piece, jewelry, and a pottery piece. One of my favorite purchases was a woven plate basket which I use as art on my mantel, and are one of the most traditional souvenirs people buy. The woven baskets vary widely in pricing, which seems to depend on the shape and tightness of the weave. Some of the woven pieces are treated like art and can cost in the thousands. Beaded jewelry is also very popular and makes a great gift souvenir for friends and family!
My trip was fabulous and I can't wait until I can head back to share the experience with my hubby and two girls. Do you have any questions about traveling to southern Africa? For more photos, head over to see my Africa travel posts: