Hello everyone! I'm Chelsea from Two Twenty One, where I share home improvement projects, organization ideas, crafts, home & seasonal decor ideas, recipes, and car care & maintenance tips with a little bit of life mixed in. I'm super excited to be participating in Kristen's Decorating with Pictures series.
I love decorating our home with sentimental items, especially photos, illustrations, and artifacts that mean something to my husband and me. From DIY glitter state art to framing concert tickets, I'm always cooking up creative and special ways to display what's meaningful to us on the walls of our home.
I recently finished a photo and art display on a small wall in our entryway. Since this is one of the first things guests see when entering our home, I wanted to make it special. To find out more about this photo and art display, head over to my blog. I'd love for you to stop by!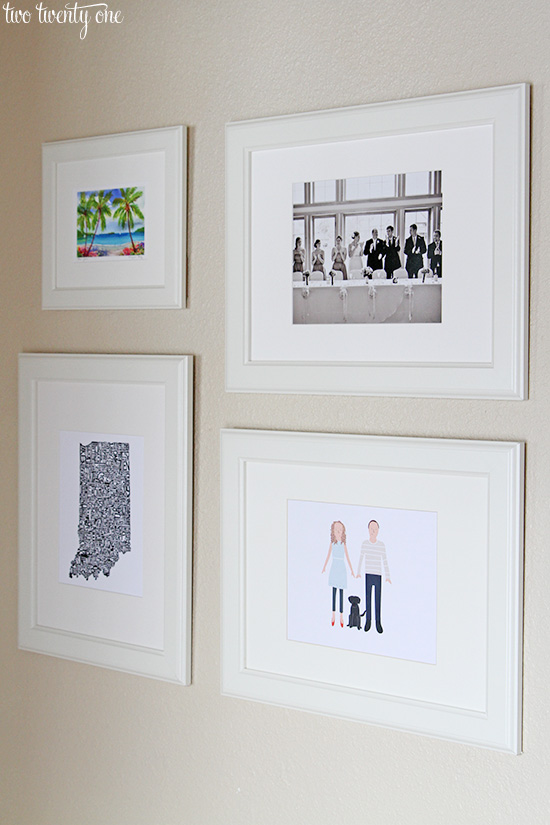 Stop by Two Twenty One anytime!
~~~~~~~~~~~~~~~~~
Thank you, Chelsea! I love the mix of photo's and art together. So personalized.
If you've missed any of the posts from the Decorating with Pictures Series, check them out HERE or click on the image below. Every day in February is packed with 2 inspiring posts, each with a giveaway from a fabulous brand! (If you need help taking better pictures, in a few posts, I'm giving away my Say NO to Auto beginner camera Workshop on video AND my books as well!)  Follow along in the series!