Today, we will travel Around the World to South America, specifically to Ecuador.  If you'd like to see more stops on our trip Around the World in 7 Days, click that link!
I've asked Mari from Inspired by Familia to share about Ecuador, since they live there!
Some of you may have never had Ecuador in your traveling radar screen but after the Super Bowl commercials this has definitely changed for many. It was a bold move on the part of the Ecuadorian tourism office but in my opinion it was a smart move because this country is filled with many appealing adventures for the avid traveler but if you're looking to just sit back and relax and soak in the picturesque scenery, you can do that as well. The wonderful thing about Ecuador is you have a variety of awe inspiring places to choose from there's the: majestic Andes mountains, the amazing amazon jungle, the pacific coast and the adventure filled Galapagos island.
I'm Mari Hernandez-Tuten from Inspired by Familia where I blog about all things family, recipes, parenting, kids crafts and inspirational encouragement. We consider ourselves global nomads, we've had the privilege of traveling to various countries outside of the U.S. So, I'm excited to be sharing with you here on one of the many countries we love, Ecuador.
Quito, Ecuador is located in the Andes mountains. The weather is spring year round during the day and in the early morning and night it's fallish weather–a bit cooler. Here there are only two seasons: winter (rainy season) and summer (dry season) and depending on what part of Ecuador you'll be in the seasons can be different. So it may be winter season in the Andes mountains but on the coast it's summer season. I just tell our guest to always carry a rain jacket if they are going to be traveling the surrounding area of Quito.
As far as safety is concerned, I tell our visitors to always be street smart just like you would in area you're traveling. Don't walk in dark and empty alleys or streets. Always be aware of your surroundings. Keep your belongings close to you. I personally feel safe walking around Quito. I've been in and out of Quito for 7 years with my kids and thanks to God I've yet to have someone rob us. But I follow the basic street smart rules (and we are not night life people) that apply when traveling outside of the U.S. You can go online and sign up via the U.S. Embassy to get updates on what's happening in Ecuador.
Okay, so before I go into the awesome places to visit with your kids I'll share that the UV index rays here are high so make sure to apply sunscreen and wear a hat even if it's cloudy. Also, on hailing a cab always use an official cab it will have seal on the window with a number. You can also use a reliable app that my husband has downloaded and it tells you the taxi drivers name and I think they even send you a picture, the license plate number of the vehicle and approximately how long it will be before their arrival. It's genius! I don't know if there are more like this but we like this one called Easy Taxi.
8 Must Do Activities with Kids in Quito Ecuador
Below I'll share the 8 must things to do with kids while in Quito Ecuador and it's surrounding area.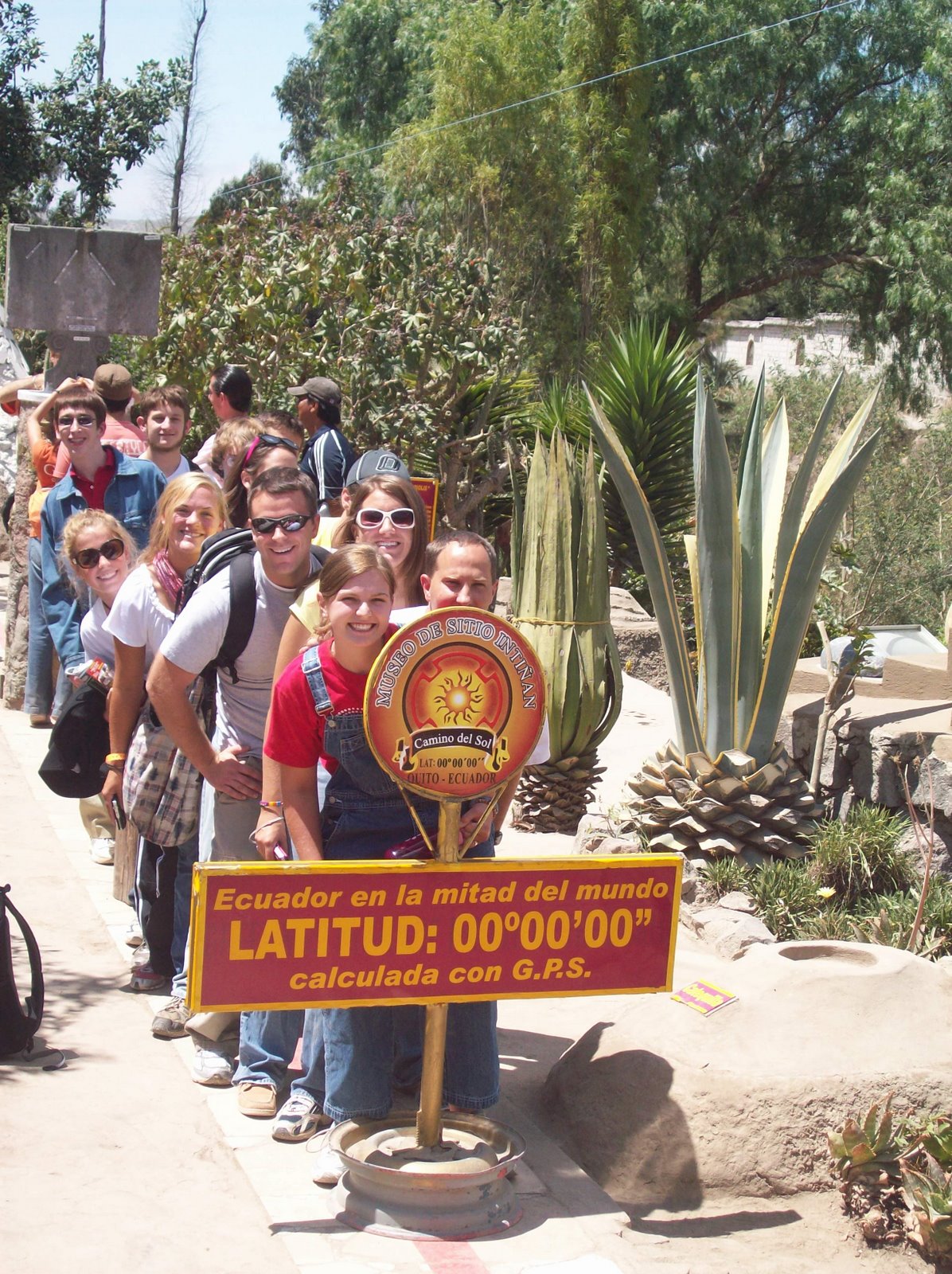 1. Mitad del Mundo – BKA "The Equator" – Mitad del Mundo consists of one dominant monument, smaller monuments that lead up to it and a small village that has been constructed around the equator site and a quaint museum. It's a great photo opp for the whole family. If you go the large monument, on the weekends a lot of times they have traditional dancers and music for you to enjoy while your shopping and eating. We like going because you can get your photo opp, artisan type of items shopping done and enjoy music and cultural dancing.
2. Historical Center – El Centro Historico is a quaint part of town it's packed with lots of art museums for you to enjoy with your familia. We like going to the changing of the guards ceremony that happens every Monday at 11 a.m. The cobblestone streets at the Plaza Grande are charming and there is even a horse drawn carriage to go with it (those cost money).
3. Guayabamba Zoo – I also have a Spanish and English free printable to use at this or other zoos. Just click here to get the free printable and lots of tips like don't go on Mondays because it's closed. The official website for the zoo is here.
4. Teleferico – If you want to get a breathtaking view of the city and 4 other volcanoes, you must take a cable cart up the Pichincha Volcano. Oh and at the entrance there's a little amusement park called Vulqano Park. I also have more tips for then Teleferico here.
5. Mindo – You can enjoy the cloud forest just north of Quito. If you're at Mitad del Mundo it's a little over 30 minutes out from there. There is much to enjoy in Mindo. You can hike to some waterfalls, zipline and fly like a bird in the air, water raft or just enjoy a cup of hot chocolate or chocolate tour.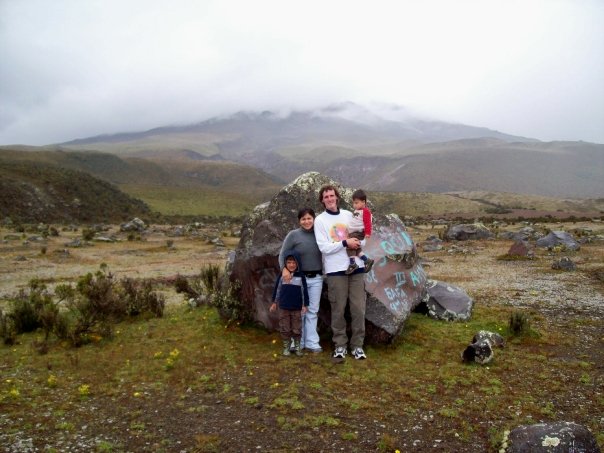 6. Cotopaxi Volcano – Cotopaxi is the highest active volcano in the world (5,897meters/19,348 feet). People from all over the world come here to climb it. Our whole family (pictured above) climbed 1000 ft of it at 15,000ft high so it was quite the climb, but now we can say we climbed an active volcano. Here I share all of the tips you should know if going with kids.
7. Museo Interactive de Ciencias – This museum is packed with a shock full of hands on science activities for kids. Their official website is here. I share a little bit here about our experience.
8. Carolina Park or Metropolitano park in my opinion, are a must do with kids. The parks are not the normal type of park you would visit in the U.S. They go for miles and miles on end with lots of activities especially on the weekend and at Parque Metropolitano you have llamas freely roaming around.
This isn't necessarily a place to visit but it's an experience I highly recommend you try. Kichwa Indigenous Indian living experience – I highly recommend this experience. Book a Kichwa Indigenous Indian experience with your local traveling agency. It was absolutely one of my favorite experience while exploring Ecuador. We lived in our own little cabin behind a Kichwa Indigenous families home. We spent the day living along their side. We went to work with them, ate with them, went to the market and grocery shopped with them and got to know them.
I have so many experiences I would love to share with you but I'm running out of space, so you'll just have to stop by my blog, Inspired by Familia to keep up with our traveling tips to Cusco, Peru, Mexico, Machu Picchu, the Amazon jungle… More great articles about traveling, go here for our Activities, Food, Places to enjoy while Ecuador . Or follow us along on Facebook, Pinterest or Email.
Out of all four: Galapagos, Andes, Pacific Ocean and Amazon, my favorite place to travel around in Ecuador was by far the Galapagos. I wrote a series with things to do in three days at the Galapagos with Kids Day 1 (series still in progress). In the picture above my kids are playing at Tortuga Bay with the sea lions!
~~~~~~~~~~~~~~~~~~~~~
Thank you, Mari!  Go check out her site to see about other great travel spots!
Here are a few other spots in South America you might like to read about: